An Outrageous Send-up of PC Behavior
Lisa Portes is the director of
The Thanksgiving Play
written by Larissa FastHorse.
Lisa is pleased to be back at Cincinnati Playhouse in the Park where she directed
Disgraced
in 2016! Recent credits include
Rightlynd
by Ike Holter and
Breach
by Antoinette Nwandu (Victory Gardens Theater);
I Come From Arizona
by Carlos Murillo (Children's Theatre Company);
Native Gardens
by Karen Zacarías (Denver Center Theatre Company);
The Glass Menagerie
(California Shakespeare Theater);
This Is Modern Art
by Idris Goodwin and Kevin Coval (Steppenwolf Theatre Company); Naomi Iizuka's
Ghostwritten
(Goodman Theatre);
After a Hundred Years
(Guthrie Theater);
Concerning Strange Devices from the Distant West
(TimeLine Theatre Company);
TRANSit
by Darren Canady and
Grounded
by George Brant (American Blues Theater); and
Highway 47
by KJ Sanchez (Collaboraction Theatre Company, HERE and PlayMakers Repertory Company). A recipient of the 2016 Zelda Fichandler Award for Directors, Lisa is a founding member of the Latinx Theatre Commons and serves as artistic producer for the LTC Carnaval of New Latinx Work. She heads the MFA Directing Program at The Theatre School at DePaul University and serves on the boards of TCG and SDC. Lisa lives in Chicago with her husband, playwright Carlos Murillo, and their two children, Eva Rose and Carlos Alejandro.
---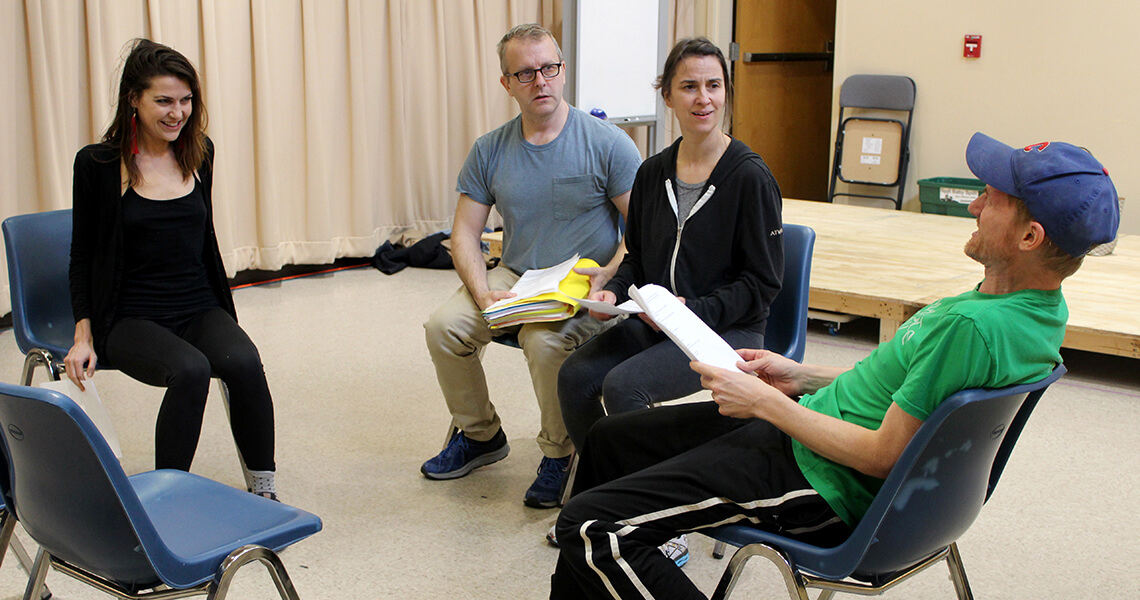 Ashley Austin Morris (Alicia), Nat DeWolf (Caden), Jennifer Bareilles (Logan) and Scott Parkinson (Jaxton) in rehearsal for The Thanksgiving Play.
The Thanksgiving Play
is a satirical comedy that finds four, liberal theatre artists attempting to devise a culturally sensitive, politically correct Thanksgiving pageant for elementary schools. Tell us about your initial thoughts and reactions to the script. Was there anything that you could specifically relate to?
Well, if art holds a mirror to life… I am a theatre director dedicated to creating work by and about women and people of color in hopes of expanding our understanding of one another. Most people with whom I make work share a similar agenda. And, believe me, there's more than a bit of necessary optimism, which may also be naivete, in the idea that art can change minds. So, on that level, I absolutely relate to the quest of the characters to create a piece of theatre that they believe will absolutely change the world! Especially the director. I have actually said things verbatim in my own rehearsal rooms that she says in the play.
But more importantly, despite my "woke" theatre creds, I have been woefully ignorant of and out of contact with the Native American experience. I can speak pretty eloquently on the black, Latinx, Asian-American and Middle Eastern-American experience, but I have indeed committed the very same sin that Larissa addresses in this play: ignoring the experience of the peoples whose lands we now live on. And that's really what this play addresses: how seemingly liberal, politically engaged artists and educators contribute, wittingly or not, to the erasure of Native peoples that began when this land was taken.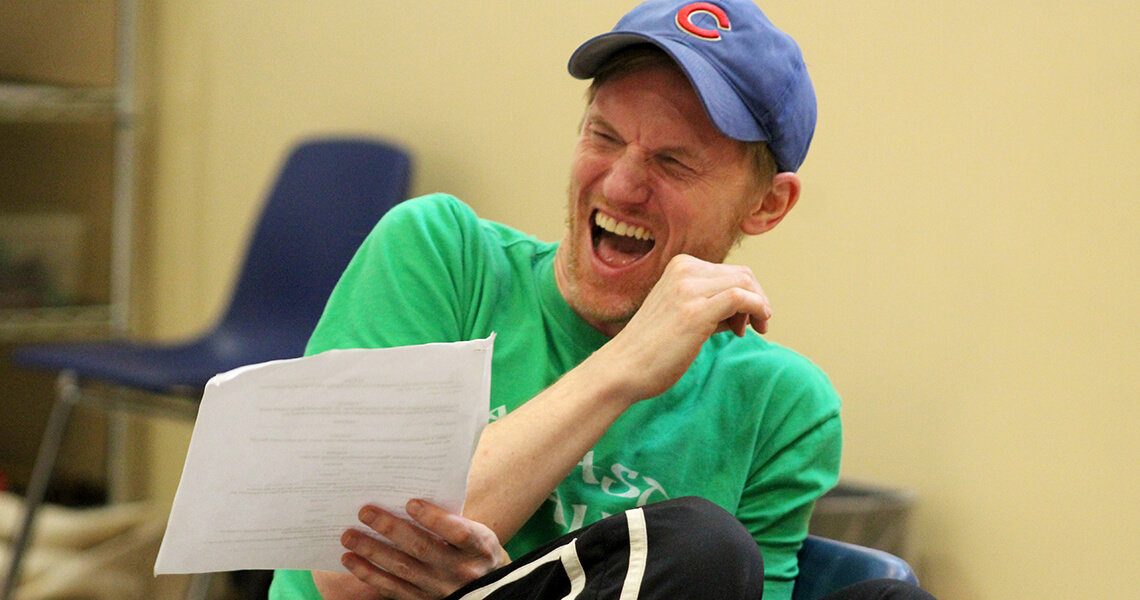 Scott Parkinson (Jaxton) in rehearsal for The Thanksgiving Play.
There are many opportunities for laughs in this show, from the task the artists set out to accomplish to the specific details Larissa FastHorse writes for each of the characters. What elements of the script made you laugh the most, and why?
I mean… I honestly don't know where to start. I laugh from top to bottom of this play. But, like I said, I specifically relate to the director Logan's quest: the ways in which she tries to create a collaborative artistic process while corralling the many unusable ideas, cockamamie perspectives and ego needs of her fellow artists — been there!
But also — and this is something that both makes me laugh and cry — I am most taken with the ways in which this group of well-intended artists eventually gets caught in the trap of their own politically correct thinking and ends up doing exactly the opposite of what they set out to do. I've both been in and witnessed those same conversations in which good intentions absolutely pave the road to hell.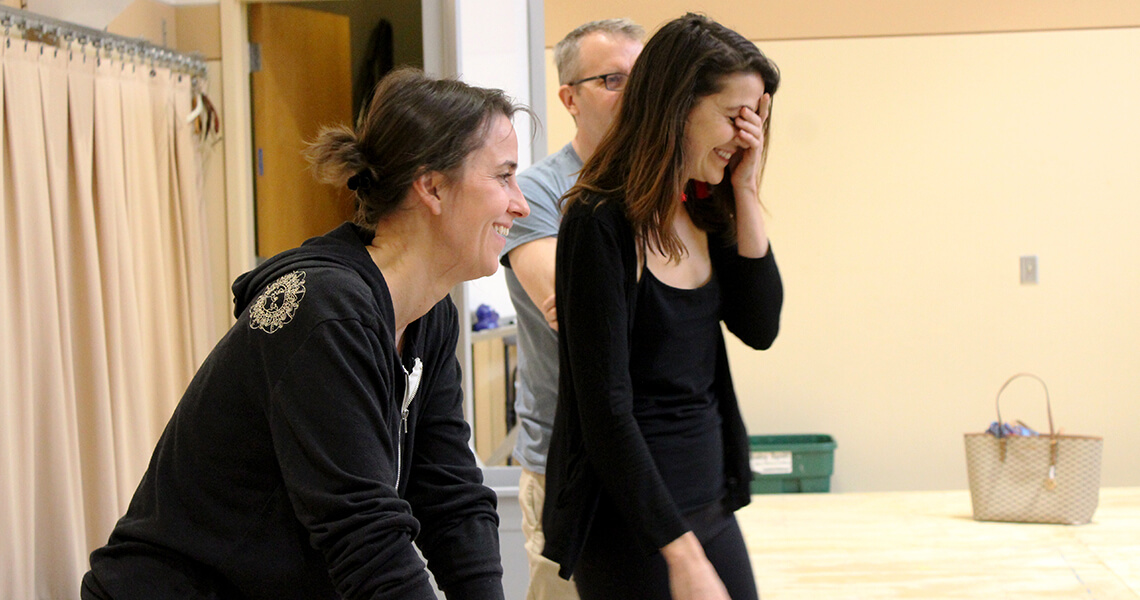 Jennifer Bareilles (Logan), Nat DeWolf (Caden, background) and Ashley Austin Morris (Alicia) in rehearsal for The Thanksgiving Play.

This cast features actors who have a slew of comedy credits, from classics like The 39 Steps to television sitcoms to stand-up comedy and improv. What motivated your casting choices for this group? What have rehearsals been like as they explore the script more deeply?

Well, first off, I'd like to say that we are very lucky to have a ringer in the cast: Jenny Bareilles originated the role of Logan in New York. When she indicated that she was interested in being considered for our production, both Larissa and I jumped at the chance. The great thing about Jenny is that she's an improv artist, so while many actors who've played a role previously would have a hard time adjusting to a new cast and new physical production, Jenny's improv skills allow her to not only roll with the punches but take advantage of them.
In terms of the rest of the audition process, what we were looking for primarily were comedic skills, timing and, most importantly, a sense of play. Ashley, Scott and Nat all brought a great sense of play and imagination to the audition process, in addition to their terrific comedic skills.
The rehearsal process has been both a blast and a challenge. While this cast makes me and each other laugh all the time, it's also a challenge to confront some of the things that this play confronts.
The Thanksgiving Play
holds a mirror up to well-meaning, liberal theatre artists and calls them out. So, in essence, we are calling ourselves out, and I've just got to hand it to the cast for their courage and commitment. The characters are really the clown versions of ourselves.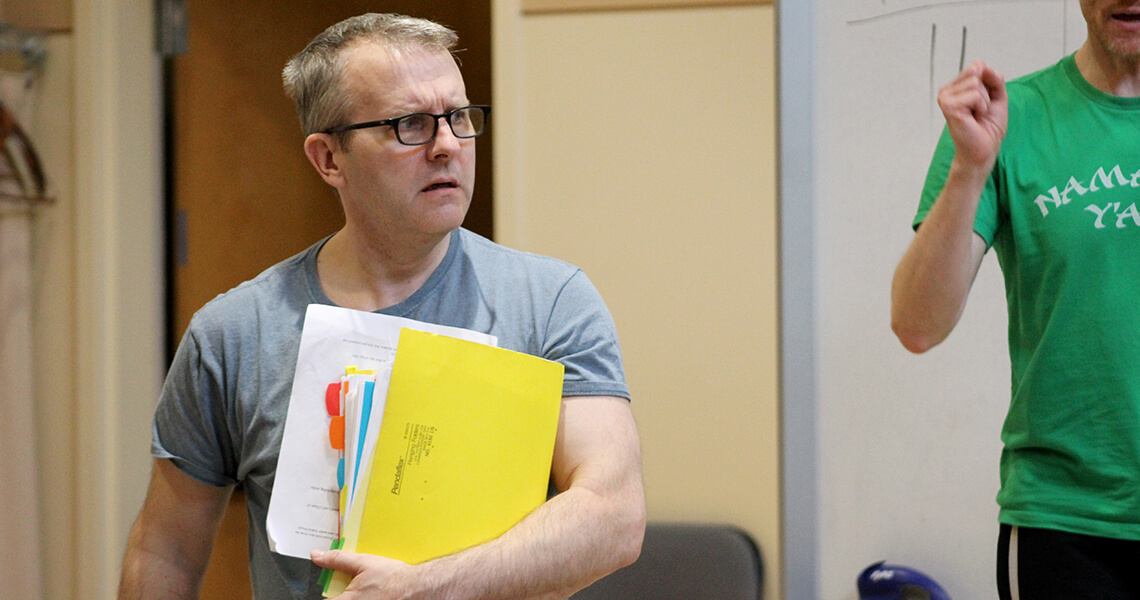 Nat DeWolf (Caden) and Scott Parkinson (Jaxton) in rehearsal for The Thanksgiving Play.
While the comedy abounds, there are a few important messages at work in FastHorse's play. One is that the reality of Indigenous people's experiences in America is deeply troubled and may be difficult to comprehend if you're a non-Native American person. The other message is that the American theatre often neglects Indigenous voices on mainstream stages. As the director, how do you keep the comedy alive while ensuring these ideas don't get lost in the laughter?
Well, that's really the challenge, isn't it? I'd say, however, that Larissa does a fantastic job in the writing of opening up our hearts and minds with laughter and then threading in the larger and more complex themes of the play. So, I feel quite confident that if we follow her map, the play will provoke both laughter and thought. But truly we won't know until we start previews. Once I'm able to watch the show in front of our preview audiences, I'll know if we've erred too heavily on one side or the other of the balance. Preview audiences are key to comedy. You don't really know if the show is working until they're there.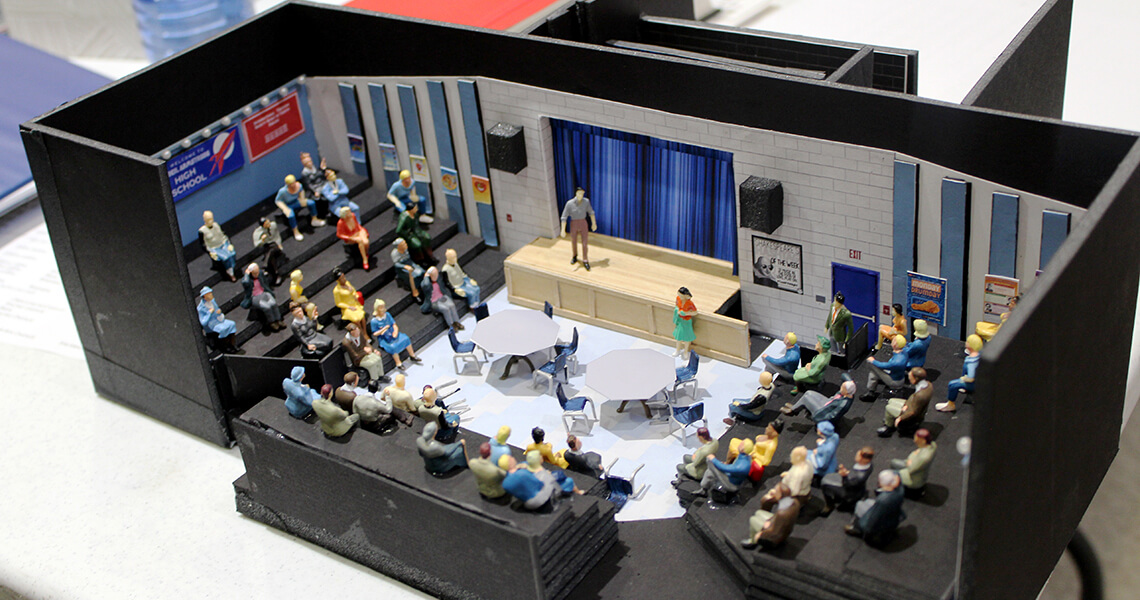 Set model by Set and Lighting Designer Brian Sidney Bembridge for The Thanksgiving Play.
FastHorse indicates in the script that the story ought to be located "anywhere but the Los Angeles area." Where do you envision this story being set? What details within the production reflect that location, and what do you hope audiences pick up on when watching?
We set the play in the cafetorium of a high school in an unspecified Ohio town. Larissa gave us permission to change the name of the high school in which the play is set to Armstrong High, in a nod to Neil Armstrong's Ohio and Cincinnati roots. The setting indicated in the script is a classroom, but because the Shelterhouse is an intimate thrust space, we wanted to make the experience a bit more immersive. In this production, the audience sits within the cafetorium space along with the characters.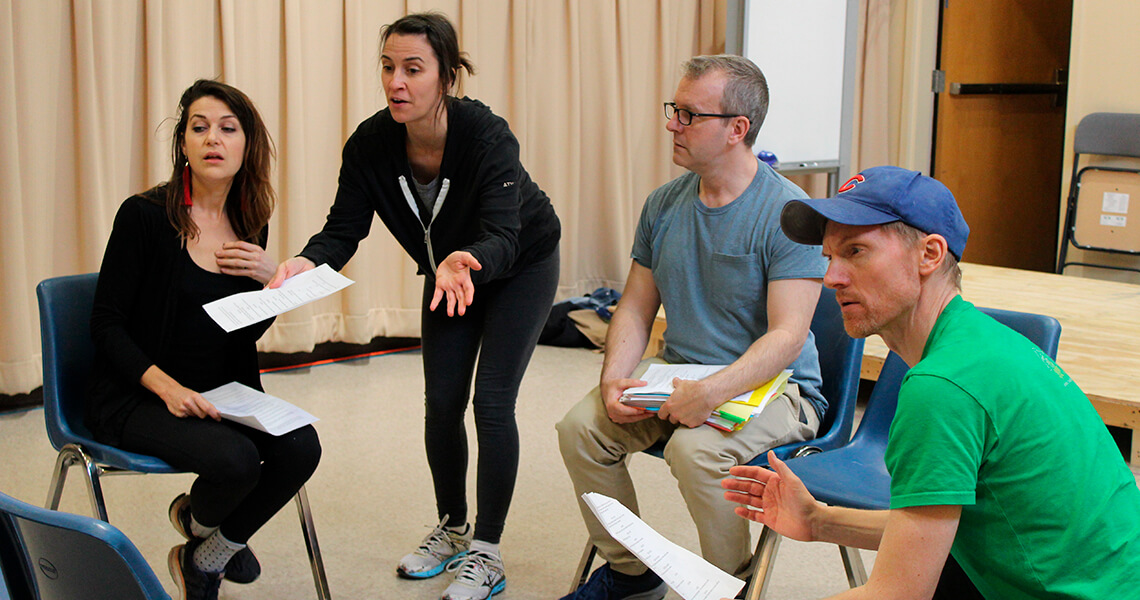 Ashley Austin Morris (Alicia), Nat DeWolf (Caden), Jennifer Bareilles (Logan) and Scott Parkinson (Jaxton) in rehearsal for The Thanksgiving Play.
If you had to choose (and without giving away spoilers), what is your favorite moment or scene in the show, and why? Likewise, do you have a character who is your personal favorite?
Well, it goes without saying that I love the whole play! But if I had to break it down I'd say two things. First, the play is unique in that the action is intercut with these interludes that each depict a lesson plan for teaching children at various ages (from pre-school to high school) during the Thanksgiving season, using either references to Native Americans or Native American history itself. These four Thanksgiving-specific educational moments are an amalgamation of actual lesson plans that Larissa found online. And I love them, because within their hilarity, Larissa really blows open the question of what and how we are teaching kids about Native peoples.
Second, there is indeed a scene that I can't describe except to say that, as the character Jaxton says, "it strikes at the core of the [matter] with one visual."
In terms of a favorite character — that's tricky! I love them all… As I've mentioned earlier, I relate most directly to Logan, the director, and like Logan, I am most taken with Alicia — the free spirit. However, I grew up with Caden, the history teacher whose love of knowledge and the joys of history remind me of my father, and I dated many Jaxtons in my youth!
---
To learn more about the Playhouse's production of
The Thanksgiving Play
, visit our
production detail page
.