We are pleased to partner with Vonderhaar's to provide casual fare dining at the Playhouse. Selections include freshly prepared gourmet sandwiches, signature salads, homemade soups and other more elaborate seasonal menus.
No reservations are necessary; service begins 90 minutes prior to curtain.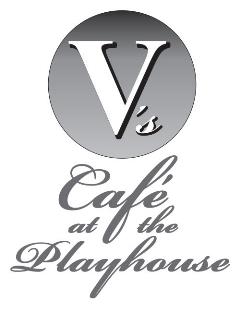 Not Another Club | $7.50
All natural turkey with house maple espresso bacon, white cheddar cheese; served on a flaky croissant with a side of red pepper aioli

The Sopwith Dagwood | $7.50
Provolone Cheese, salami, pepperoni, ham with lettuce served on a ciabatta bun with a side of Italian Dressing

Roasted Vegetable Sandwhich | $6
Marinated roasted vegetables on a multi grain ciabatta with red pepper hummus.

It's All About the Beef | $8
Tenderloin sandwich served on brioche bun or pretzel bun with horseradish sauce and cole slaw

The Sally | $7
Beef BBQ on a brioche bun with cole slaw and Saratoga chips

Playhouse Doubler | $7.50
A scoop of tuna and waldorf chicken salad on a bed of artisan greens
Simply Chef | $7.50
Classic chef salad with choice of dressing
Linus's PB&J | $6
Creamy peanut butter and grape jelly on wheat bread; served with pretzels
Warm Snoopy | $6
1/4 lb. hot dog on a bun with a side of Saratoga chips
Woodstock Salad | $7
Mixed greens with garden pasta salad and vegetables
Add chicken: $3

Marcy's Mac | $3
Macaroni and cheese

The Schroeder | $6
Penne pasta with marinara sauce
Add chicken: $3
Add meatballs: $2

Charlie Brown Snack Pack | $4
M&M's, Skittles, Goldfish Crackers, Gummi Bears

Featured Candy Bar of the Month | $2
York Peppermint Patty