We are pleased to partner with Vonderhaar's to provide casual fare dining at the Playhouse. Selections include freshly prepared gourmet sandwiches, signature salads, homemade soups and other more elaborate seasonal menus.
No reservations are necessary; service begins 90 minutes prior to curtain.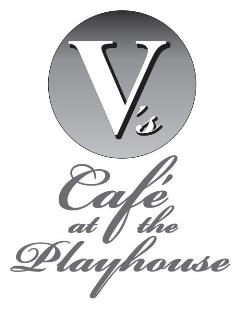 V's Dagwood $7

All natural ham, Genoa salami, pepperoni, mozzarella cheese, tomatoes, artisan greens, Italian seasoning with Italian dressing; served on a ciabatta roll
V's Cuban $6.50
Thinly sliced apple wood smoked pork, Olde fashioned ham and aged Swiss cheese with Rhinegeist mustard and pickle relish; served with on a pretzel bun
Not Another Club $7
All natural turkey with house maple espresso bacon, white cheddar cheese finished with a red pepper aioli; served on a flaky croissant bun
It's All About the Beef $8
Tenderloin Sandwich on Brioche Bun served with Dijon Cole slaw and horseradish sauce; served on a
brioche bun
BBQ of the Day $7
Our delicious chicken, beef or pork BBQ tossed with our signature sauce with a side of Dijon slaw;
served on a brioche bun
Ratatouille Wrap $6
Zucchini, yellow squash, red peppers, red onions, tomatoes, lettuce and mozzarella cheese on a spinach wrap; served with sundried tomato basil vinaigrette
Playhouse Doubler $7
A scoop of tuna and waldorf chicken salad(s) on a bed of artisan greens.
Playhouse Camden Greens $7
Tender leaves of baby spinach and varietal greens with tomatoes, red onions and hard boiled eggs, croutons and candied bacon (on the side); served with sweet and sour dressing.
Daily Hot Special $8
Chef's choice


SPECIAL ITEMS

Billy Bones $6.50

Thinly sliced roast beef with marble jack cheese on salt and pepper bun with bistro sauce.

Jim Hawkins $7.50

Mixed greens, red peppers, pineapple tidbits, mandarin oranges, sliced strawberries topped with coconut chicken breast and toasted almonds; served with orange vinaigrette.

LJS $7

Pineapple braised pork with peach BBQ sauce on brioche bun; served with Dijon slaw.

Trelawney $7

Sliced chicken with peppers and onions on demi pretzel bun, topped with shredded mozzarella cheese; served with pesto mayonnaise.

Buried Treasure $7

Cavatapi pasta tossed with mango cream sauce, peppers, hearts of palm, edamame and fresh herbs, topped with your choice of sliced chicken or smoked pork; served with a corn muffin.

Yo Ho Ho $3

Tropical carrot cupcake with rum-scented coconut cream cheese frosting.