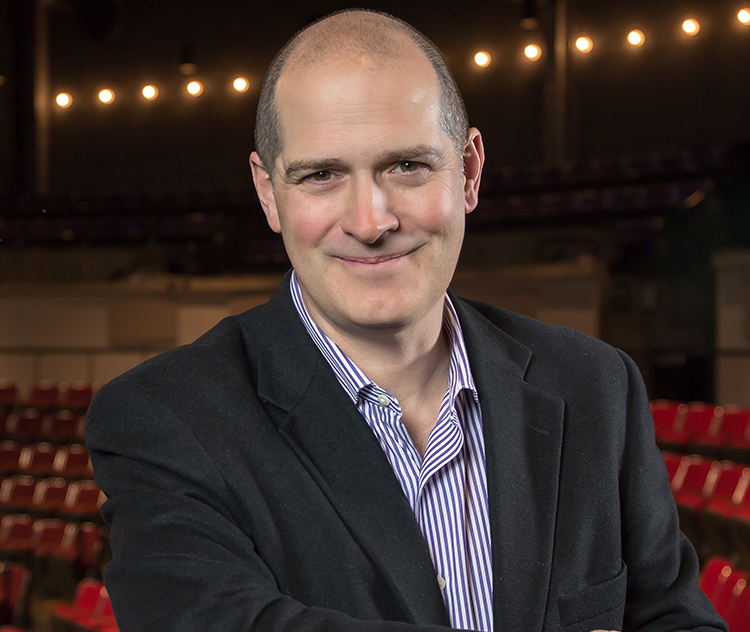 Director Blake Robison shares his perspective on Margaret Atwood's mind-bending thriller Alias Grace.
Many of Margaret Atwood's works have been adapted for the screen. This production of Alias Grace is rendered into a mystery that unravels onstage. What makes this story ideal to experience live, particularly in the intimate Rosenthal Shelterhouse Theatre? What sets it apart from its originally published source as well as a screen adaptation?
At the end of the day, Alias Grace is a psychological mystery. The story is structured around memory, amnesia and the mysteries of the mind. The book delves into those mysteries through language and metaphor. The screen version brings a sort of visual naturalism to it. But in the theatre, we can take advantage of our intimate stage to pry into the characters' impulses and inner thoughts. Every little gesture or movement is meaningful when the actor and audience are so close. To me, it feels like a story that was always meant for the stage.
Caroline Hewitt (Grace Marks), R. Ward Duffy (Jeremiah/Dr. Jerome Dupont) and Director Blake Robison in rehearsal for Margaret Atwood's Alias Grace.

Atwood often explores the roles that women play in society, whether it's a child-bearing woman in a dystopian world (like The Handmaid's Tale) or the historically overlooked wife of a mythical Greek character (like The Penelopiad). In Alias Grace, she takes us back to 19th-century Canada in a fictionalized exploration of accused murderess Grace Marks. As the director, how do you interpret Grace as a character and how she responds to the world in which she lives?
Grace is a fascinating character because she reveals so little. Each memory is a layer of the onion, peeled away, revealing yet another layer. For our production, we start with the fantastic actress, Caroline Hewitt, who will portray Grace on stage. Creating a character is an imaginative mix of the source material, the script and the actor's own impulses. As director, I see my job as facilitating that exploration. I ask questions, offer observations, urge the actor to go down unexplored pathways. Where we end up is anyone's guess at this point. That's the joy of rehearsal.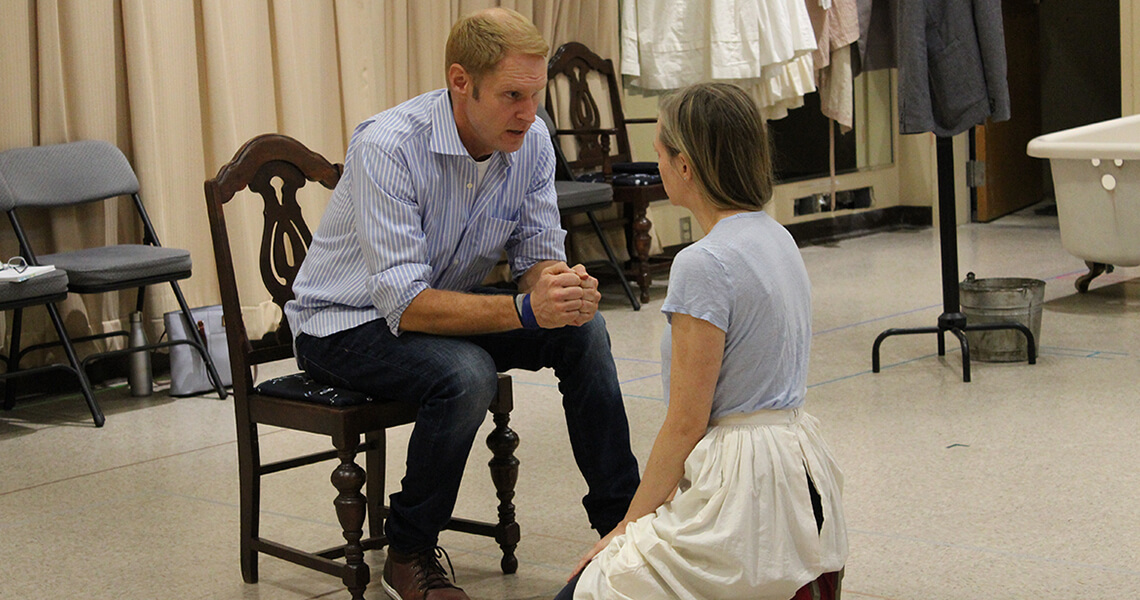 Grant Goodman (Simon Jordan) and Caroline Hewitt (Grace Marks) in rehearsal for Margaret Atwood's Alias Grace.

Likewise, Atwood creates an interesting character in Simon Jordan — a psychologist who takes a special interest in Grace because of his work in the field of amnesia therapy. Tell us more about his character and the role he plays in the story.
Simon sees himself as a man of science. And he is. But the story also reveals the more lurid and chauvinistic side of his character. His sessions with Grace form the structure of the story, but they also chart his personal downfall. The more we learn about Grace, the less upstanding Simon becomes. It's a role full of irony and complexity.
The events of Alias Grace are inspired by real crimes that took place in 1843. The double homicide and the trials that followed were heavily sensationalized in newspapers. Today, true crime stories still fascinate and beguile us. Why do you think the story's murders were so riveting at the time, and why do you think we still engage in dark tales of true crime?
We are fascinated by human nature. What makes people good? Why are some people bad? Audiences have been intrigued by the dark side since we began telling stories. Why did Cain slay Abel? Why did Medea kill her children? How did Anakin Skywalker become Darth Vader? Whether it's cable news or fantasy fiction, there's something in our DNA that craves a real thriller.
To learn more about the Playhouse's production of Alias Grace, visit our production detail page.
---
Page-To-Stage Book Club
Monday, Oct. 21, at 7 p.m. | Joseph-Beth Booksellers at Rookwood Commons & Pavilion
The Playhouse begins its page-to-stage book club series this season with a deep dive into Margaret Atwood's Alias Grace. Participants are invited to attend a special discussion in which we'll talk about the book and its overarching themes, and then discuss what excited and surprised you about the story's theatrical adaptation with a member of the artistic team.
This event is free and open to the public, but registration is required by visiting our Events page.