Recreating the 1970s: 5 Questions with Costume Designer Tracy Dorman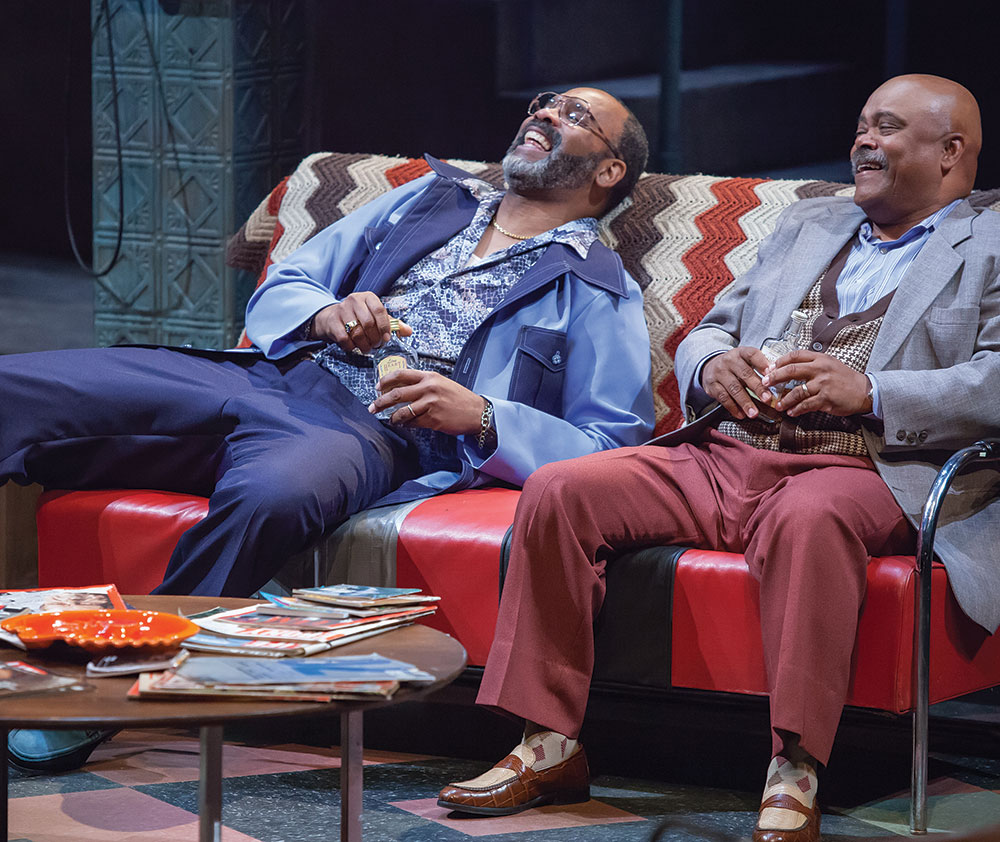 Set in 1977, August Wilson's
Jitney
evokes vivid images of that late disco era in the clothing worn by the characters.
Jitney
, Wilson's first full-length play, follows a group of men hustling to survive while operating an unlicensed car service in Pittsburgh's Hill District. We asked
Jitney
costume designer Tracy Dorman about creating the clothing for the cast of the production.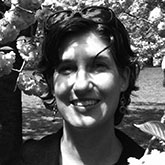 You have said that that delving into Jitney's characters involved many layers and that the play is set in an insular world. Can you explain how that influenced how you approached the clothing for the various characters?
Because we are in the jitney station for the entire play, it's important that what the characters wear represent the world outside. For example, they set the time period (1977) and the season (fall) by the style of clothes and the use of layers/jackets, hats, etc. Another example is Shealy [the numbers runner], who is slicker than some of the guys who work at the station because of how he spends his days/money — he doesn't have the day job that the other guys do. Conversely, Philmore [who works in a hotel] stops by in one scene in his work uniform.
You've also said that the period involved a very vivid palette, including multiple textures and layers. How is that reflected in the costume pieces?
The 1970s were a very visually expressive era, where people felt free to mix colors and bold patterns — some of the characters, such as Shealy and Philmore, really push that envelope — Shealy because he is ostentatious about how he lives and spends his money and Philmore because he's going to clubs in the evening.
Each of the characters has a rich back story. Can you give examples of how that influenced the clothing choices for them?
Youngblood served in Vietnam, so he wears his dogtags and feels most comfortable in an Army jacket. Doub also served in the Army — earlier, in Korea, so I see him as more down-to-earth and straightforward than Youngblood in terms of how he presents himself — not as flashy as compared to some of the other guys. Becker worked in the factory for years, so he wears work boots still and dresses more blue collar — his fabrics are cottons as opposed to the polyester clothes of some of the others. Fielding was a tailor, so he is dressed in a more traditional, slightly earlier (late '60s, early '70s) silhouette — good dress shirts that are well worn. He may not have much, but he still puts himself together with a sweater, patterned socks, etc.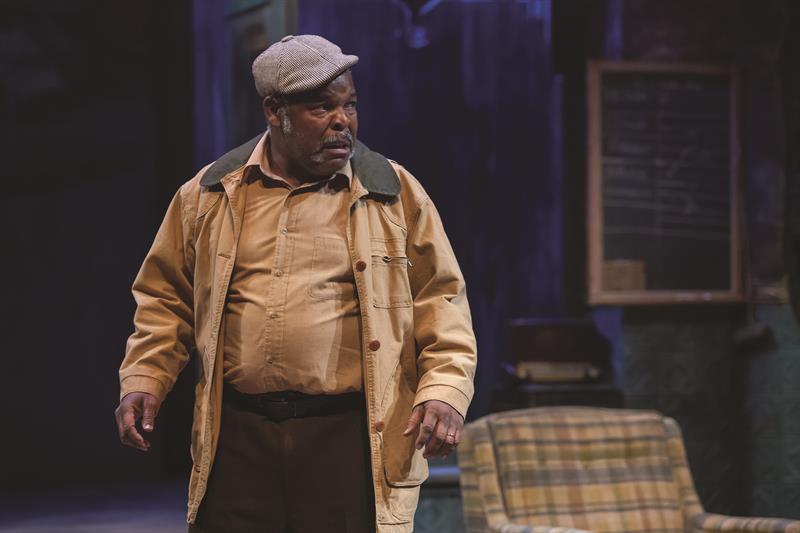 Did you have any challenges coming up with any of the fabrics for the show?
Not really, it was more challenging to find actual period pieces — there aren't that many '70s clothes in the vintage and thrift stores anymore, so it was actually easier to find fabrics and make costumes.
What are some of your favorite details in the characters' clothing?
This is a great play because each of the characters is so distinct — so it was really fun to choose accessories and think about every last detail. Sometimes as a designer, you want to use broad strokes, but I think this play requires that attention to detail to tell the stories of these characters' lives and histories. I really wanted to invent a rich visual world; in particular, I enjoyed things like buying jackets for Shealy and Turnbo and adding detail, as well as accessorizing with jewelry, sunglasses, belt buckles, etc.
To learn more about the Playhouse production of August Wilson's
Jitney
, visit the
production detail page
.
Pictured above: Kenneth Early with Doug Brown in August Wilson's Jitney; Raymond Anthony Thomas in August Wilson's Jitney. Production photos by Mikki Schaffner.