Finding Jim Hawkins: A Q&A With Em Grosland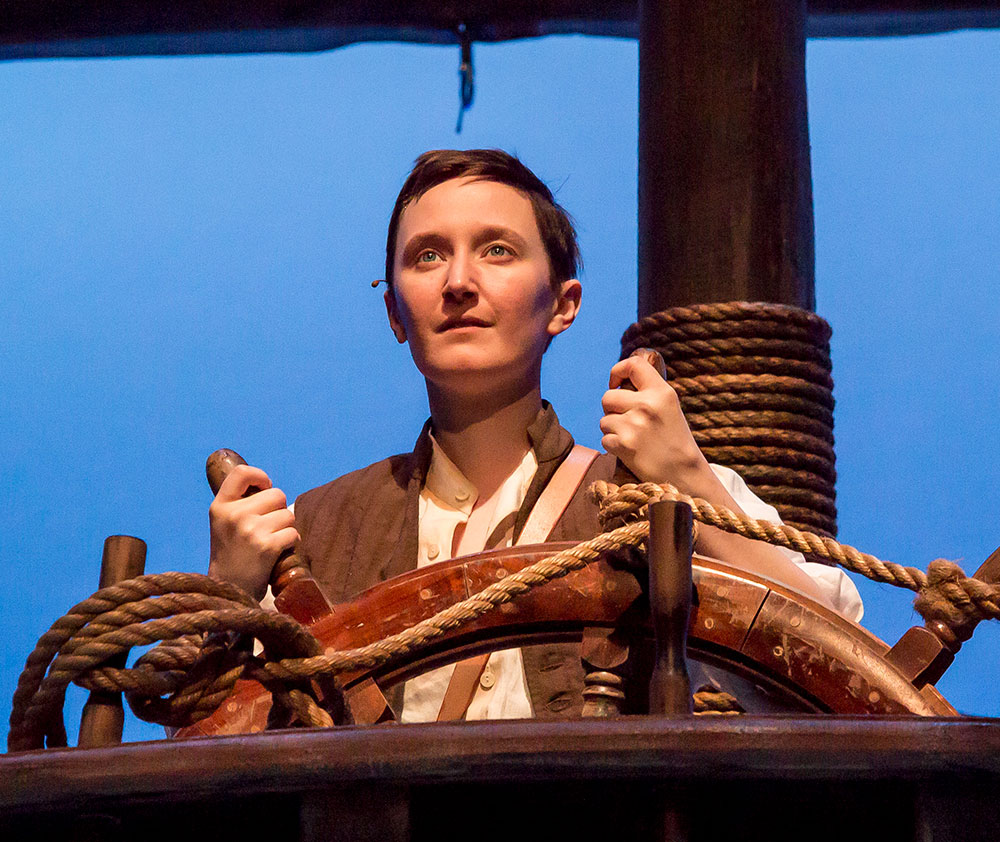 Em Grosland plays Jim Hawkins in Ken Ludwig's
Treasure Island
.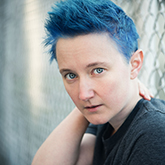 Em is thrilled to make his Cincinnati Playhouse in the Park debut. Previous credits include Taylor Mac's
Hir
at Steppenwolf Theatre Company in Chicago; the world premiere of Eve Ensler's
Emotional Creature
(Berkeley Repertory Theatre and off-Broadway/Signature Center);
A Midsummer Night's Dream (
off-Broadway/Masterworks Theatre Company); the world premiere of
The Anthem
(off-Broadway/The Culture Project); the world premiere of
The Erlkings
(off-Broadway/Theatre Row);
Peter Pan
(Tuacahn Ampitheatre); Wagner's
Ring Cycle
(L.A. Opera); and
How the Grinch Stole Christmas
(national tour). Film and television credits include
Law & Order: SVU, Bull
and
Ricki and the Flash
. Em received his BFA from Washington University in St. Louis. To learn more about him, please visit
EmGrosland.com
or follow
@EmGrosland
.
Tell us about your character Jim Hawkins. How would you describe his personality? How does he grow and change throughout the course of the story?
Jim starts out as a young pre-teen who is mourning the loss of his father and is now in charge of his family's business. He is innocent but strong-willed at the start of the play. By the end, he is a man. He finds his independence and himself through the adventures he has on Treasure Island. His sense of morality starts out as very black and white, but he learns through Long John Silver that things are not that simple. And that there are more than just good people and bad people in this world.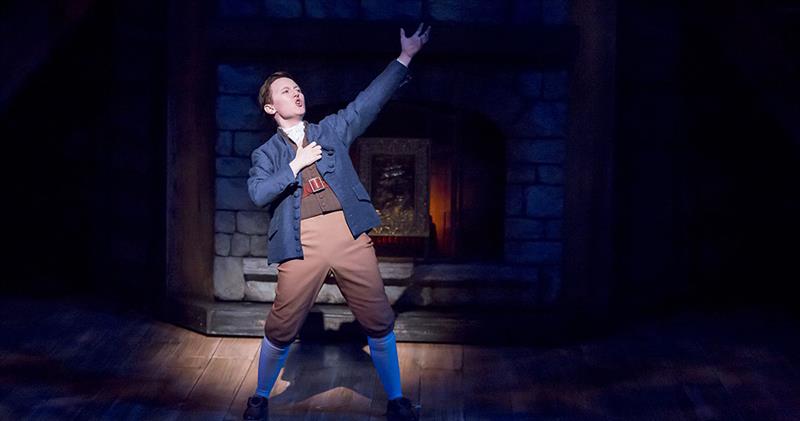 Em Grosland in Ken Ludwig's Treasure Island; photo by Mikki Schaffner.
What sort research helped you prepare for the role? Have you ever performed a similar role?
Most of my questions for this role were answered by reading the original novel that it is based on. I have played young many times before, and the key to playing kids is actually not playing young at all. Kids don't try to act young — they try to act older than they are. My years of playing Peter Pan helped with that immensely. There is a youthful physicality that I have to make sure I embody before each show, but other than that, I go on stage and want what Jim wants in every moment.
Ken Ludwig's script emphasizes the complicated father-son relationship between Jim and Long John Silver. How did you approach this aspect of the relationship throughout the rehearsal process with actor Jeffrey Bender (Jim's Father/Long John Silver)?
This turned out to be rather easy because I was working opposite such an incredible performer. Sometimes you get the privilege of working with actors that make everything easier. Jeffrey is one of those actors. He is endlessly present and connected. Our chemistry was there from day one and our affection for each other is genuine. The only part that became hard to navigate was the end. Deciding how much Jim really trusts Long John in the end was something we explored all the way up until opening. And even though I know the answer now, I think it is something that we (including Ken Ludwig) leave up to the discretion of the audience.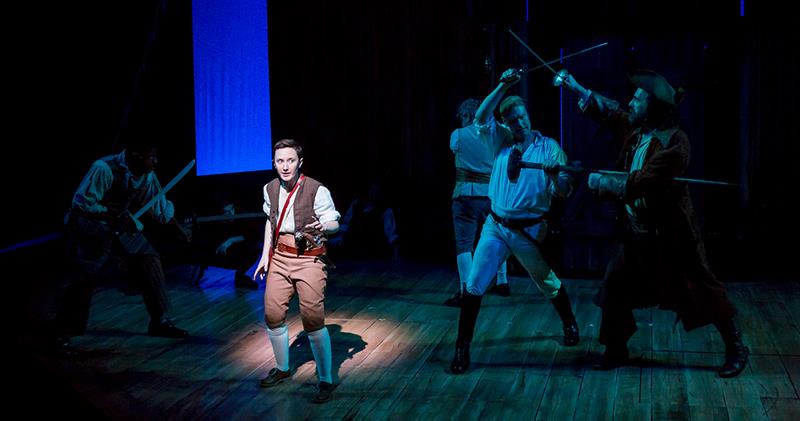 The cast of Ken Ludwig's Treasure Island; photo by Mikki Schaffner.
This show is a pretty extravagant production. Tell us about your experience in rehearsals from learning fight choreography to manning the ship to climbing the ratlines.
We were very lucky to have out fight choreographer, Drew Fracher, from day one. Usually you only get a fight choreographer for a week or so before you open. Jeffrey and the pirates do a lot more fighting than I do, though. Sadly, I never actually get to sword fight in this one. But I do get to climb the ratlines! I love heights, so this might be my favorite thing I get to do in the show. And I am way up there. My mom will be nervous.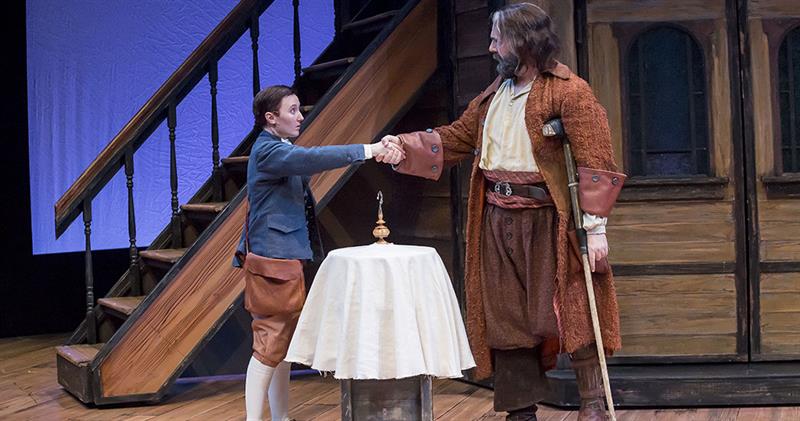 Em Grosland and Jeffrey M. Bender in Ken Ludwig's Treasure Island; photo by Mikki Schaffner.
Without giving too much away, what is your favorite part of the show to perform?
There is a moment when Long John Silver defends me from the other pirates. There is this incredible intensity with which he does so. Like a papa bear defending his cub. I recently had the privilege of doing outreach with some local transgender youth, and seeing this moment through their eyes made it stand out even more for me. I am lucky to have grown up feeling protected by those that love me. But not everyone has that. Being a part of the trans community has shown me over and over how important it is to have a community and a family that has your back. In that moment, Jim really feels that sense of "not being alone" and I get to feel it, too. I hope people in the audience who need it feel it as well.
To learn more about the Playhouse's production of Ken Ludwig's
Treasure Island
, visit our
production detail page
.