Vaudeville: The World that Gave Rise to the Marx Brothers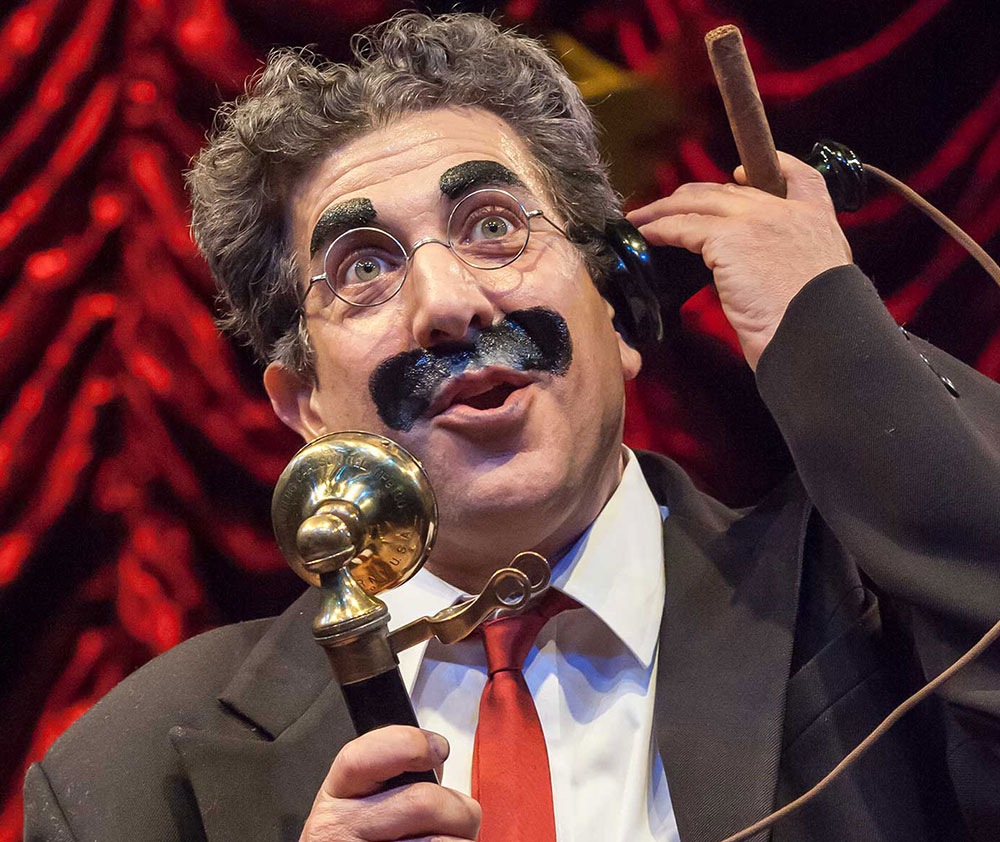 In 1905, a 15-year-old Julius Henry Marx (who would later be nicknamed Groucho) responded to a newspaper ad that called for a third performer to round out The Leroy Trio. They were a singing group that was about to go on tour to small towns in the Midwest. Though Julius had intended to pursue a career in medicine, his mother Minnie had been pushing her sons to perform all their lives, and Julius's addition to the Trio marked the first of the Marx brothers' professional entertainment careers. He left their New York City home and ventured into the heartland with Gene Leroy and Johnny Morris as a singing performance act.

The Leroy Trio had been one of countless acts that traveled to communities across the country in American vaudeville theatre. This hugely popular form of entertainment was defined by its variety of song, dance, music and comedy performed onstage. Its heyday lasted from the 1890s to the 1930s, and it was a genre that spanned the country. One could find vaudeville acts in the urban hubs of America's growing cities to rural prairie towns to Western frontier settlements.

Though it's difficult to pinpoint its true origin, vaudeville grew out of other forms of low-brow, theatrical entertainment that preceded it. Burlesque and minstrel shows had been enjoyed by adult (and usually male) audiences of the 1850s and 60s, and traveling circuses had been entertaining communities for the better half of the century. Vaudeville borrowed from each of these performance styles. The material was less risque than burlesque shows and designed for venues smaller than circuses. By the turn of the century, theater managers took vaudeville into a more wholesome, family-friendly direction than its influences, and they opened theaters and advertised shows that catered specifically to mothers and children.


Molly Picon (center) in Bublitchki, 1938. Performed at the Public Theater, New York City (not affiliated with the New York Shakespeare Festival.)
Common vaudevillian talents and tricks outside of song and dance included ventriloquism, juggling, acrobatics, plate-spinning, contortionism and other mind-bending skills. The more unique acts — responding to the stiff competition that had resulted from vaudeville's popularity — pushed the boundaries of reality. Gus Visser's act included a "singing" duck that quacked in tune with his musical performance. Ethel Purtle performed "death-defying" motorcycle tricks with a lion seated in her sidecar. Comedy and novelty — and thrills — were amongst vaudeville's most defining features that set it apart from traditional theatre.
It wasn't surprising, then, that Minnie Marx, an immigrant herself, saw massive potential for her five sons to support the family through show business. What's more, Minnie's brother Al Shean had been experiencing his own fame with partner Ed Gallagher. The comedy duo had seen small-time success in the vaudevillian era, as Gallagher and Shean, and this was a significant motivating force behind Minnie's relentless desire to thrust her sons into the spotlight. By the time Julius had come of age in 1905, vaudeville was in full swing across the country.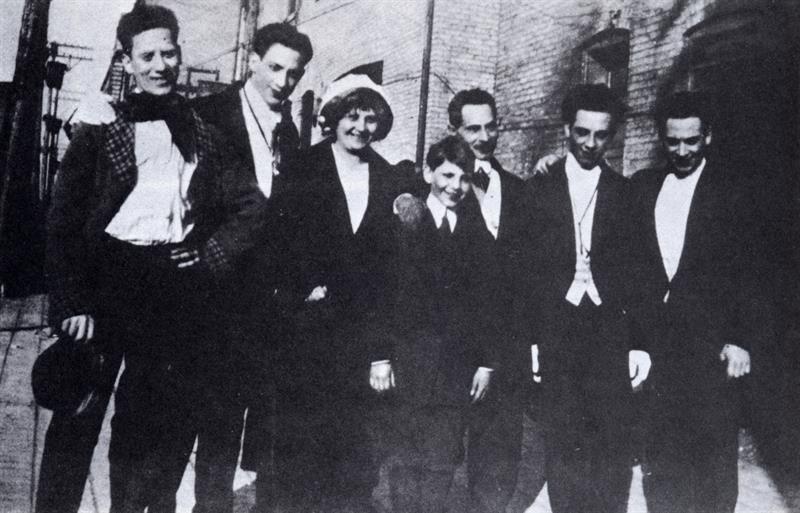 The only known photo of the Marx family, circa 1915.
Julius's time with The Leroy Trio was extremely short-lived. After a performance in Colorado, Gene and Johnny abandoned Julius and the entire act in the middle of the night, leaving the lone Marx brother penniless. He eventually made his way back home to New York, working odd jobs like delivering groceries.
Shortly after returning to New York, Julius was back on the road with another vaudevillian act: "Lily Seville and Master Marx in 'The Lady and the Tiger.'" He landed himself in another role soon afterward (with Gus Edwards' Postal Telegraph Boys) and another (a play called The Man of Her Choice). Minnie managed him, his brother Milton (later nicknamed Gummo) and a third performer outside of the brothers, Mabel O'Donnell, in the singing group The Three Nightingales in 1907, and The Four Nightingales in 1908 with brothers Milton and Adolph (later, Harpo), and their fourth performer, Lou Levy. The siblings would soon forge their own group that eventually found tremendous success out of vaudeville, onto Broadway and into Hollywood as the Marx Brothers.


Gerald Sternbach and Frank Ferrante in An Evening With Groucho. Photo by Mikki Schaffner.
Award-winning actor Frank Ferrante recreates the music, comedy and laughter of the Marx Brothers in
An Evening With Groucho
. To learn more about the Playhouse's production, visit our
production detail page
.
Gerald Sternbach and Frank Ferrante in An Evening With Groucho. Photo by Mikki Schaffner.