Director's Notes by Wendy C. Goldberg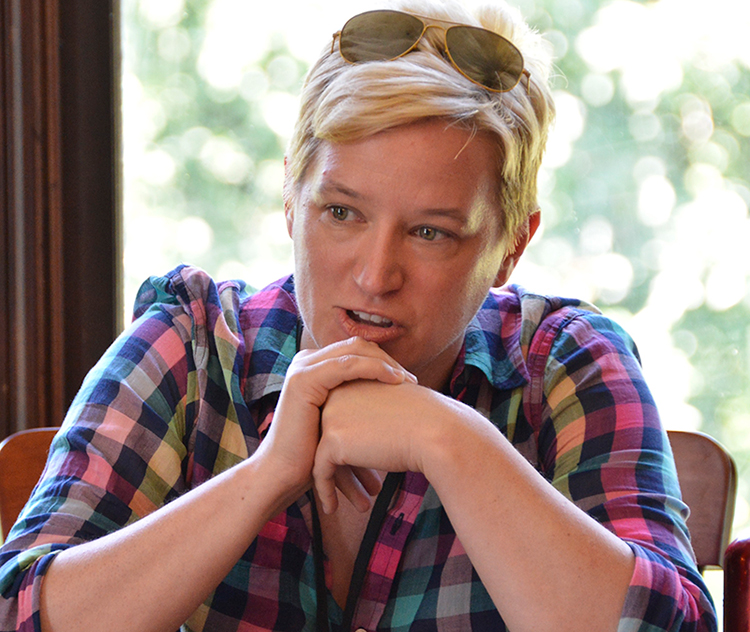 Playhouse Associate Artist Wendy C. Goldberg returns to direct The Lifespan of a Fact — a fast-paced story that explodes with blistering comedy and timely relevance. Emily Penrose, a demanding editor-in-chief, hires a determined millennial fact-checker named Jim Fingal to work on a groundbreaking essay written by the famous author John D'Agata. But the overly eager Jim takes his fact-checking way too far, creating the ultimate showdown of fact versus fiction. Below are Goldberg's notes on the show.
---
In 2012, the book The Lifespan of a Fact was published, and writing partners Jeremy Kareken and David Murrell, along with Gordon Farrell, read the reviews and felt it would make a wonderful movie or play. The book is written by John D'Agata and Jim Fingal — both characters in the eventual stage version — and is essentially 80 pages of the two men arguing about how facts function, or do not function, in an essay. John takes the position that being an essayist is akin to a poet or visual artist, as opposed to a journalist who is beholden to factual realities. Jeremy and David felt that dramatizing this encounter (in a time when truths seem to be more subjective than ever and facts seem "negotiable") would be a worthy idea. They worked on the play for about six years, and eventually, they landed a Broadway production that went into rehearsal in late summer 2018. The Lifespan of a Fact ran for several months on Broadway and is just now making its regional bows across the country.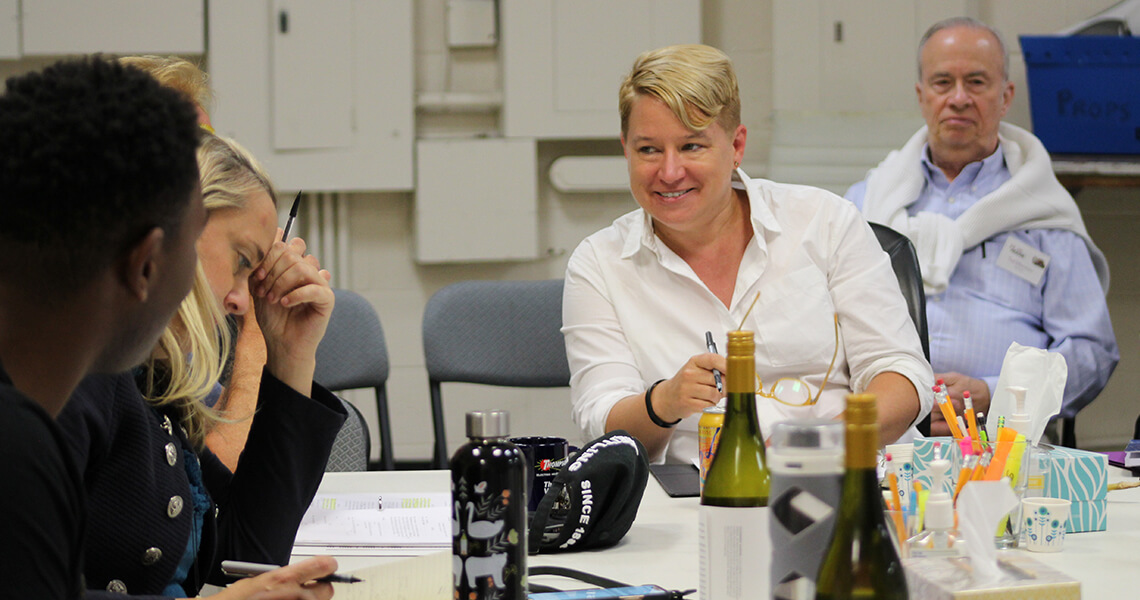 Director and Playhouse Associate Artist Wendy C. Goldberg at the meet and greet for The Lifespan of a Fact, presented by Moe & Jack Rouse and Randolph Wadsworth.

The play itself is a tightly woven tale for our time made with great humor. Within the play, we see the characters themselves fighting to have their point of view and opinion heard. We also see how our cultural obsessions with media and our concept of story and who gets to tell it (what is fact and what is fiction) permeate all aspects of our lives. In our play, we have a comedic look at truth-telling, fact-checking and cultural relevance, as well as an investigation into how these micro-encounters fuel our larger societal perspective.

David Whalen (John D'Agata), Kate Rigg (Emily Penrose), JuCoby Johnson (Jim Fingal) and Director Wendy C. Goldberg at the meet and greet for The Lifespan of a Fact.

It is a thrill to be back in Cincinnati yet again with an incredibly relevant and excellently constructed play. When the play concludes, we will not have all the issues resolved, and that's the whole point. The intent is for our own communities to discuss the issues far beyond the time we spend in the theatre together, hopefully laughing and pondering this story.
---
To learn more about the Playhouse's production of The Lifespan of a Fact, presented by Moe & Jack Rouse and Randolph Wadsworth, visit our production detail page.