Beyond the Stage: Raise Your Voice, Cincinnati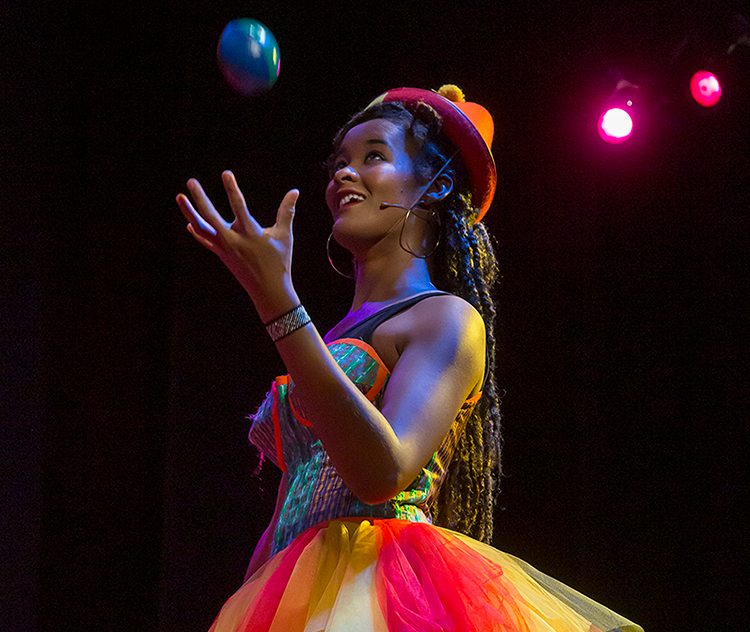 Universes is a world-renowned theatre and performance group who have garnered acclaim for their unique way of storytelling. A multi-disciplinary theatre and performance group focused on creating an updated American theatre, Universes was formed in the Bronx in 1995, starting out in the New York City poetry and music scenes. Since then, they've evolved their performances to inventively blend theatre, poetry, dance, hip-hop, jazz, down-home blues and Spanish boleros to tell stories that move, challenge and inspire audiences. Their work features artists of color, and their pieces touch on societal and cultural themes. They became the first ever ensemble in residence at the Oregon Shakespeare Festival and have played in venues across the globe.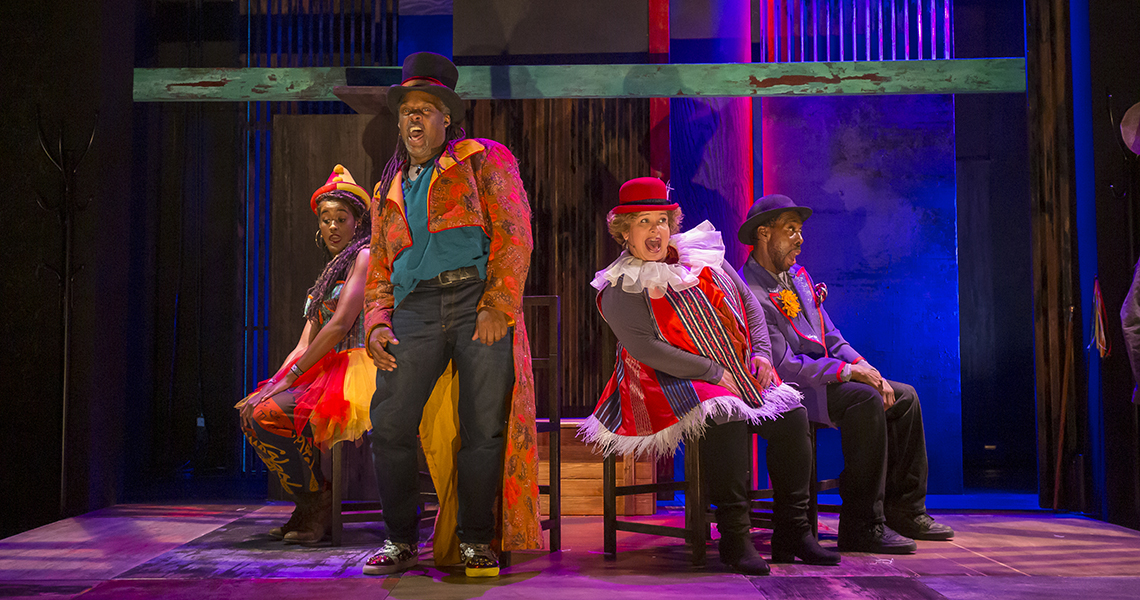 Asia Mark, Steven Sapp, Mildred Ruiz-Sapp and Gamal Chasten in americUS. Photo by Mikki Schaffner.

Now, they're joining Cincinnati Playhouse in the Park for their new show: americUS. In this world premiere, Universes showcases a compelling snapshot of modern America. Through a unique fusion of theatre, dance, music and poetry, americUS will entertain, inspire and challenge audiences.
Here's a look at local groups, organizations and events that similarly entertain, inspire and challenge through artistic media.
Elementz
Elementz offers classes and events that foster and feature the artistry and creativity of inner-city youth. Using music, poetry, dance and visual art, they focus on teaching and encouraging art based on the urban Cincinnati experience. They established their reputation through conscious hip-hop, a genre built on the positive capabilities of hip-hop and focuses on social issues ranging from everyday life to religion. While encouraging creativity and originality, Elementz emphasizes the concept of respect and support, offering it to all their students and expecting it in return from their work. Elementz plans regular events to engage and showcase inner-city youths with the Thrive hip-hop and spoken-word concert series and the Louder Than a Bomb youth poetry contests.
Pones Inc.
Pones Inc. is a community-oriented dance and performance art group that pushes audiences and spectators out of their comfort zones with performances meant to inspire positivity, creativity and community. Perhaps best known for their flash mobs throughout the city (including the zoo and on the TANK bus), they also regularly perform as part of the Cincinnati Fringe Festival. They offer classes and year-round programs as well as choreograph for special occasions. Last year they teamed up with the Playhouse's Off the Grid series to perform in 20,000 Leagues Under the Sea at Newport Aquarium. They collaborate with Cincinnati organizations and artists to introduce dance into the community through programs such as arts education and arts in healing.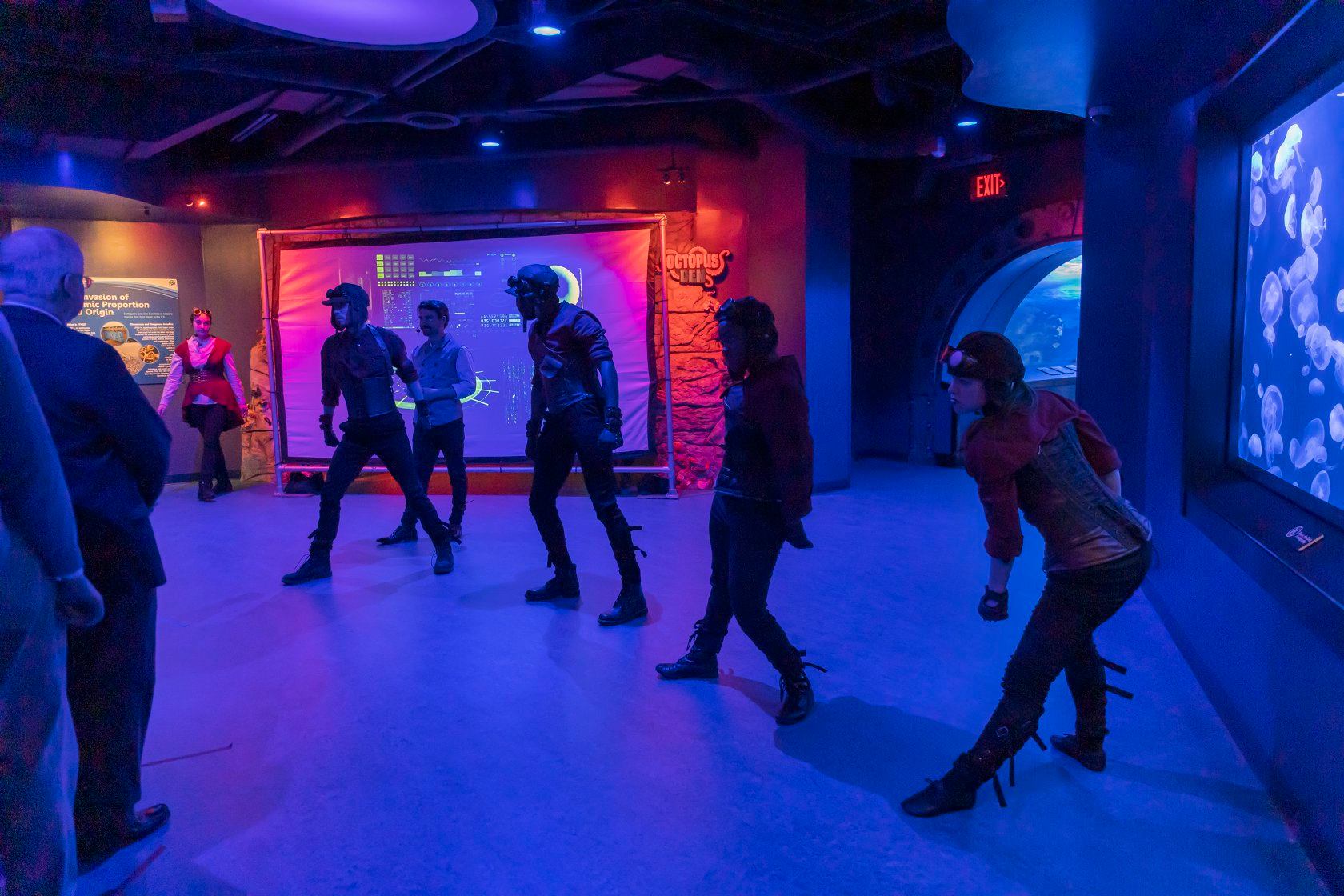 Pones dancers Ian Timothy Forgsen, Darnell Pierre Benjamin, Ernaisja Curry and Nicole A. Hershey in 20,000 Leagues Under the Sea. Photo by Mikki Schaffner.

Urban Appalachian Community Coalition
The Urban Appalachian Community Coalition (UACC) is a group of individuals and organizations committed to the Appalachian community in Cincinnati, ensuring their advocacy, well-being and creative expression. Their stewards and action teams organize events such as literary salons, festivals and research groups to connect and showcase urban Appalachians, and they work with other Appalachian-minded organizations to host even more events in the area. An affiliate organization (the Appalachian Community Development Association) hosts the annual Appalachian Festival at Coney Island, showcasing the region's traditional art forms of dance, music, storytelling and more.
Cincinnati Poetry Slam
Hosted by award-winning spoken word poet Kim "DuWaup" Bolden, Cincinnati Poetry Slam is a bi-monthly competitive slam showcasing the work of local wordsmiths. Their 2020 kick-off is March 14, where 16 poets will compete for the title. Each slam takes place in the blackbox theatre at Artsville, and the event features local vendors and businesses in the lobby. Anyone above 18 is able to register, and all are welcome as audience members. Although competitive in nature, Cincinnati Poetry Slam aims to connect and unite people in a welcoming, supportive space that highlights the artistry and entrepreneurship of our region.
To learn more about the Playhouse's production of americUS, visit our production detail page.
Photo at top of Asia Mark in americUS by Mikki Schaffner.