Love Stories: A Christmas Carol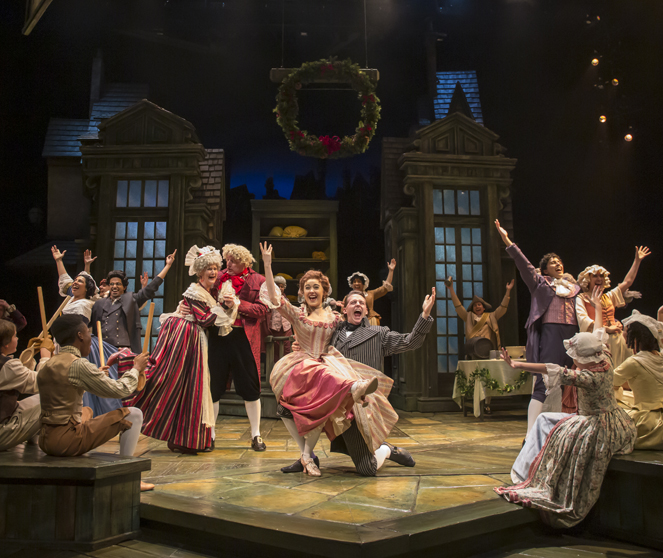 Our beloved production of A Christmas Carol has welcomed thousands of audience members through the years. See how this magical holiday favorite played a meaningful role in the love stories of these wonderful couples!
---
Andrea and Jeff Orschell
On Dec. 16, 1994, Andrea headed to the Playhouse for a performance of A Christmas Carol. She was meeting Jeff for their first date, and some of Jeff's friends were there as well. She had to work late that day, and by the time she arrived, the performance had already begun. The ushers sat her during a break in the performance, though it wasn't with the group she intended to meet. She didn't get the chance to meet Jeff until intermission. But once they met, in that brief window of time between the first and second acts, they hit it off, and "the rest is history," as she recalls.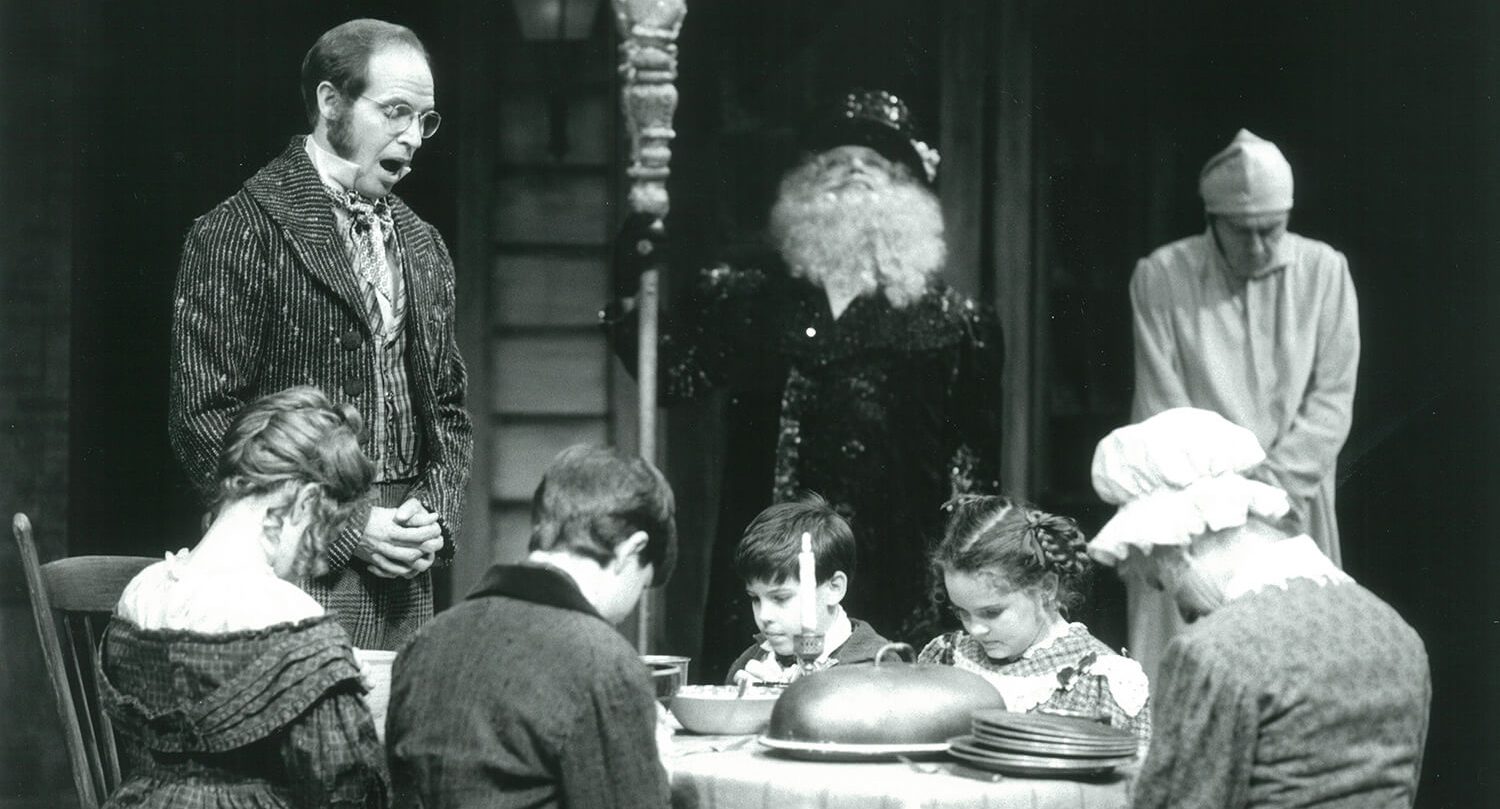 The cast of A Christmas Carol, 1994. Photo by Sandy Underwood.

Attending A Christmas Carol each year became a part of the couple's holiday tradition. In 1998, Andrea decided to make their annual experience even more meaningful: She planned to surprise Jeff by proposing to him after the play! She wanted to keep the special moment under wraps, so she didn't tell anyone, including their friends who would accompany them to the theatre that night. She called the Box Office ahead of their performance to see if they could arrange a champagne toast in the lobby following her proposal. Andrea remembers being too excited and nervous with her plan of popping the question to pay attention to the performance that night. "I am sure it was wonderful, as always," she says.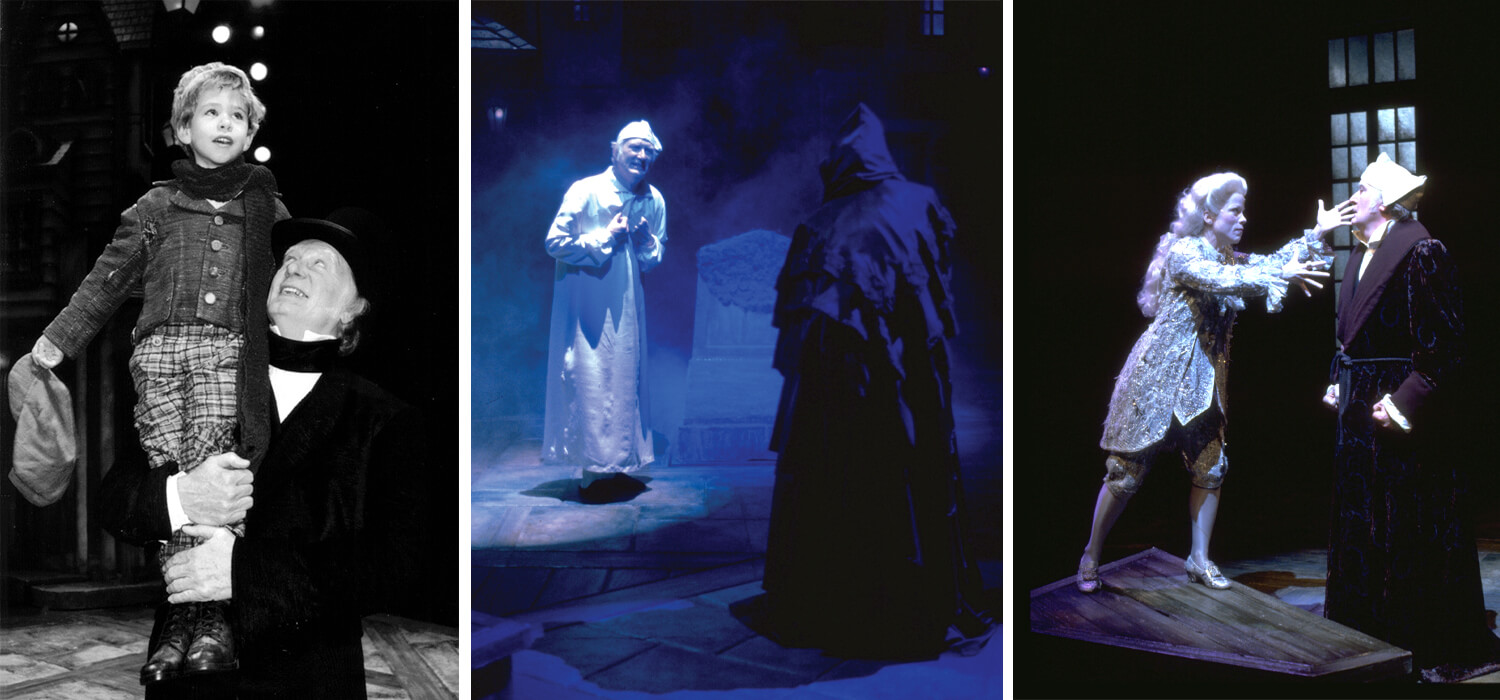 Photos of J. Patrick Naylor, Joneal Joplin, Crispin Freeman and Raye Lankford in the 1998 production of A Christmas Carol, 1998 by Sandy Underwood.

One minor plot twist that she forgot to consider was that the cast always sings Christmas carols in the lobby after the show. "How could I forget about the carolers?" she thought. "I love the carolers but that would complicate the plan!" So, she engaged the help of her friend to encourage everyone in their party to stay and regroup in the lobby to get their picture taken. After a few shots were snapped, Andrea stepped forward and thanked their friends for being there — and asked for their support in what she was about to ask Jeff. She proposed, gifting him a ball-and-chain keychain ("a little humor goes a long way!") as well as a crystal heart, and he said yes. The Playhouse bartenders had the champagne ready to serve, and the group celebrated.
Andrea and Jeff had another surprise for their loved ones. Two months following their A Christmas Carol proposal, they invited their family and friends to their home for an engagement party. But instead of celebrating their engagement, the couple held a surprise wedding ceremony at their house, and all in attendance witnessed their first moments as a married couple. "It all started with a first date at the Playhouse 25 years ago, and we have been grateful attendees ever since!"
---
Betsy and Mike Liderbach
Love must have been in the air on Dec. 16, 1994, because Betsy and Mike also had their first date at the very same performance of A Christmas Carol as Andrea and Jeff! Betsy and Mike snagged last-minute tickets to the show, and each agreed that the production was "amazing." They continued to date long after Scrooge wished a Merry Christmas to the audience that evening. In fact, they returned to the Playhouse to see A Christmas Carol again on Dec. 16, 1998, to celebrate four years of dating.

Betsy and Mike Liderbach. Photo of the 1994 cast of A Christmas Carol by Sandy Underwood.

Betsy and Mike have enjoyed 20 years of marriage. They remain fans and supporters of the Playhouse and have enjoyed behind-the-scenes tours of the theatre and the scene shop. They have also introduced the magic of the theatre to their children, and their family counts A Christmas Carol as part of their holiday traditions. As Betsy says, "It always puts us in the Christmas spirit!"
---
Jennifer and Tim Bergfeld
Jennifer and Tim have made the Playhouse a part of their date nights ever since they attended their first performance on A Christmas Carol in 2015. They always enjoy a dinner together at Montgomery Inn as part of their outing, and they watch the show from their favorite area of the theatre each time they attend.

Jennifer and Tim with photo op for A Christmas Carol, and outside the theatre in Eden Park.
---
Nancee and Scot Rogers
Nancee and Scot began dating in October 1996. A graduate of University of Cincinnati, Scot had called the Queen City home for several years by the time he met Nancee, who was not originally from the area. He surprised her one weekend with a date to see A Christmas Carol at the Playhouse. They snagged the only two remaining seats together in the top row and enjoyed the show very much.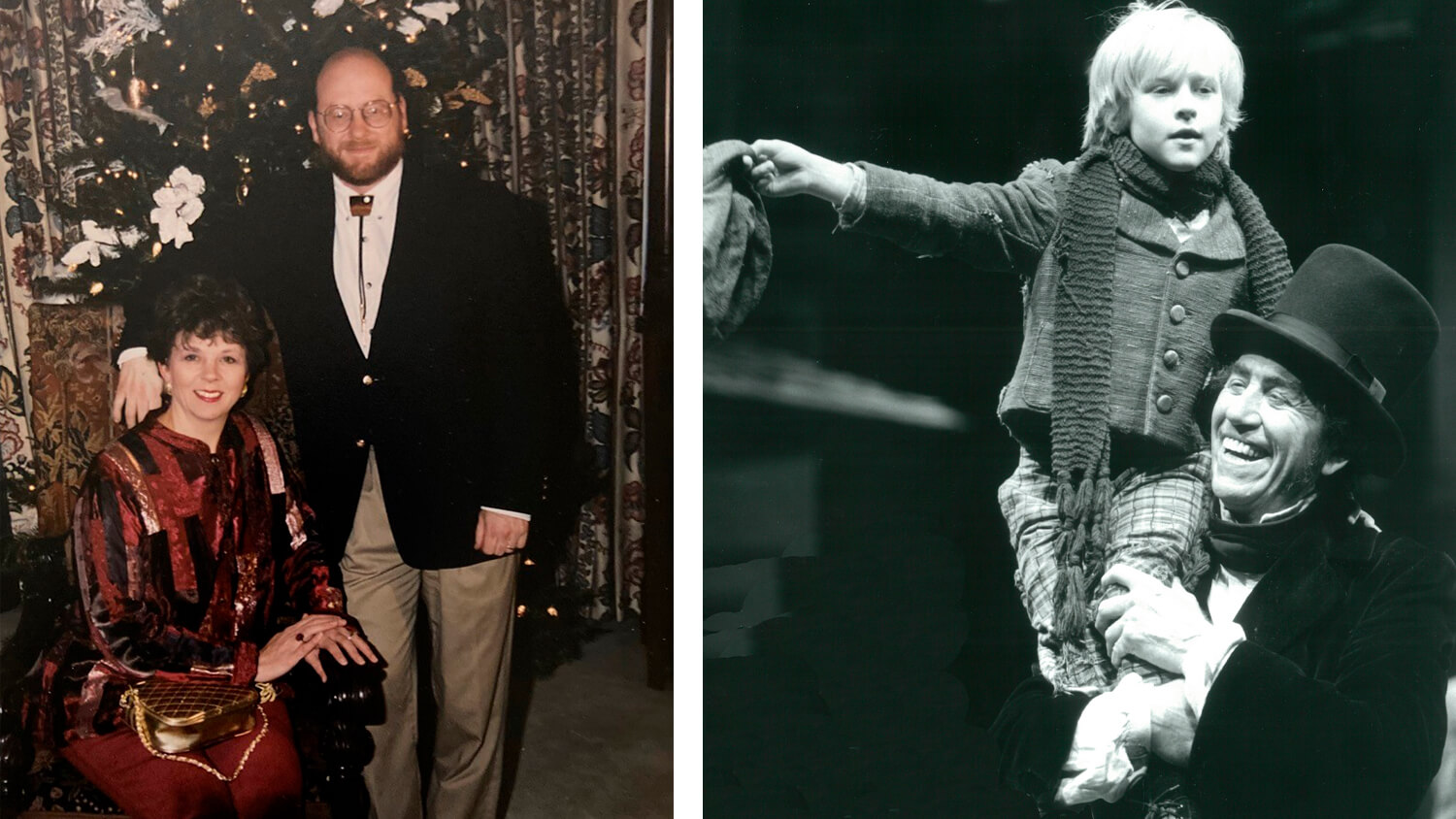 Nancee and Scot Rogers. Photo of Richard Jackson II and Alan Mixon in the 1996 production of A Christmas Carol by Sandy Underwood.

A few months later, on Valentine's Day, the couple got engaged and then got married in July. They have made A Christmas Carol a part of their annual holiday tradition — some years they enjoy the show as a couple, and some years they invite their family and friends. "It wouldn't be Christmas without seeing it," says Nancee. They have since switched up their seats to the third row in the center section — and each year, Nancee turns around from the third row to sneak a peek at who's sitting their original seats from 24 years ago.
---
Suzanne and Donald Schutte
In 1993, Suzanne and Donald attended A Christmas Carol for the very first time. It's when they both "fell in love with Playhouse in the Park." They have regularly seen shows together and purchased theatre subscriptions over the years, and eventually they began volunteering as ushers. One of their favorite holiday dates is to see A Christmas Carol. "We haven't missed an A Christmas Carol performance since 1993," says Suzanne. "It's fun to see how much it has changed, as well as how much it has stayed the same. My husband always says that it doesn't feel like Christmas until we see the show."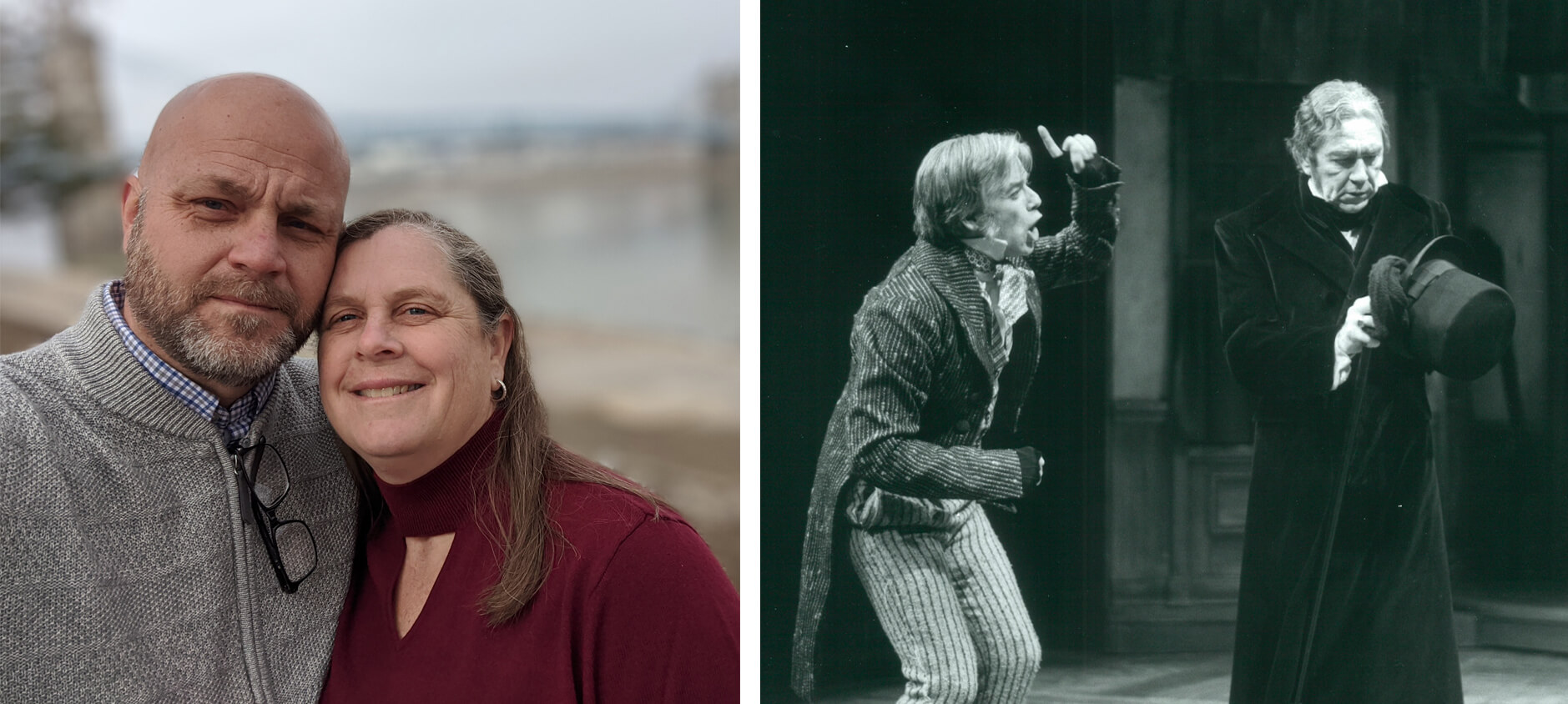 Suzanne and Donald Schutte. Photo of Peter Davies and Alan Mixon in the 1993 production of A Christmas Carol by Sandy Underwood.
---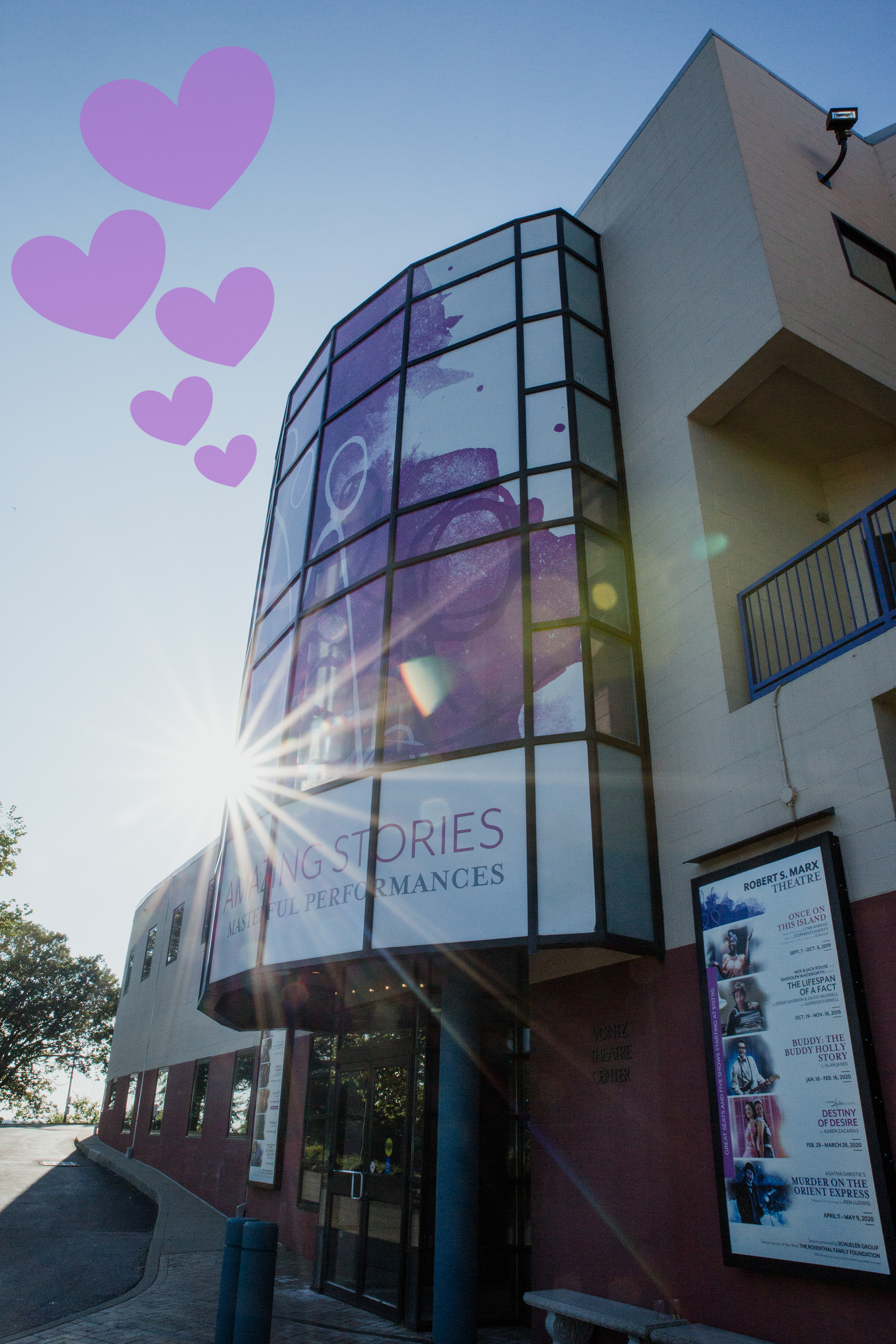 Share Your Love Story
We're looking for love stories that have scenes at the Playhouse, and we'd love to include yours! Did you meet your spouse or significant other here? Was it where you had your first date? Did you get engaged after a show? Has Playhouse marked a special occasion for you both? Is it where you've had date nights for years? Submit your story here for a chance to be featured in our Love Stories project.
Photo by Cherry Red Shoe Photography. Header image at top of blog by Tony Arrasmith/Arrasmith & Associates.