Set for Romance: Date Nights at the Playhouse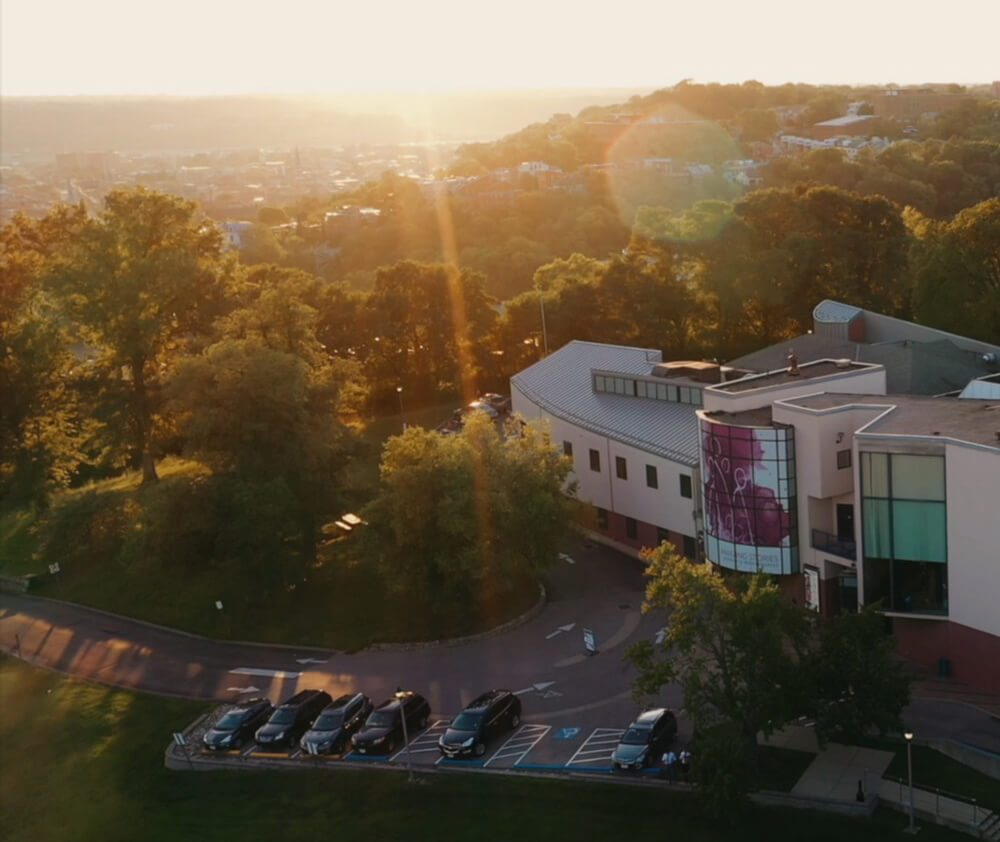 Theatre can be a wonderful way to bond as a couple, and we love that so many of our Playhouse patrons have made us a part of their date nights, time and time again. Hear from couples whose nights at the theatre have continued to set the scene for their romance.
---
Betsy and Pete Frame
Betsy and Pete got married in 1964. That July, they decided to go on a date to the Playhouse. "It was a summer thing to do," Betsy says. They attended a performance of The Fantasticks — a musical about a young couple who is just starting out — which was performed in the Rosenthal Shelterhouse Theatre when the Playhouse had only one stage in Eden Park. Their favorite line from the show was, "You're…standing…in…my…kumquats!"

The playbill for the 1964 production of The Fantasticks.

Before getting married, Betsy didn't live in Cincinnati. "I was a Salt Lake City girl in my husband's city," she says. During the play's intermission, she recalls taking in the beautiful view of the city from on top of the hill. "I fell in love with Cincinnati and the Playhouse in the Park that beautiful July evening." Betsy and Pete have enjoyed their date nights at the theatre ever since.
---
Martha and Greg Tierney
Martha and Greg's love story began in high school when the pair met as freshmen. They dated throughout college, and they tied the knot in 1968. At that time, the Playhouse was undergoing construction to build the Marx Theatre. Martha and Greg purchased a tile as a way to commemorate their relationship.

The Marx Theatre under construction in 1968.

The theatre has undergone even more renovations since then and will continue its structural changes. Martha says their tile may no longer be there, but their love and their marriage have both outlasted it! They have enjoyed many date nights since then as season ticketholders for the Rosenthal Shelterhouse Theatre, and they volunteer as ushers in the Marx Theatre.
---
Terry and Keith Lemmerman
For Terry, the Playhouse has been an important part of her life ever since she was in high school. She and her (future) husband, Keith, were both members of an unofficial club at school that explored the many cultural assets that Cincinnati offers. One of their first outings as a group was a performance of The Fantasticks in the Rosenthal Shelterhouse Theatre. The group's seats were scattered throughout the theatre, and as luck would have it, Terry and Keith ended up seated next to each other on the aisle.
Terry recalls a humorous moment during the show in which one of the actors "died" in the aisle, accidentally landed on her foot. He remained there for the rest of the act and proceeded to wink at her. Aside from the actor, only Terry and Keith were aware of the mishap, and the moment became a comical memory they shared. "We started dating not too long after," says Terry, "and one of the first presents he bought me was the Broadway soundtrack album of the show."

The cast of The Fantasticks in 2010. Fun Fact: The Playhouse has performed the show many times in our history — Terry and Keith's story began with the 1966 production.

Fast-forward a few years and the couple married. Fast-forward a few more years and they moved to Lexington so that Keith could attend dental school, and then he did a tour of duty with the Navy in Guam. "When we returned to Cincinnati, we bought an older home to rehab and spent most of our spare time on it — except for season tickets to the Playhouse, our official 'date night,'" Terry says. "We both loved the Playhouse and shared many happy memories there, especially the Play Teams."

Keith and Terry Lemmerman (left) with the Play Team, cast and creative team for The Fantasticks in 2010.

Play Teams are part of a program that gives donors behind-the-scenes experiences, sharing insight into the process of making a specific play from start to finish. The two particularly loved joining the Play Team for the show that brought them together — The Fantasticks — when it was directed in 2010 by Producing Artistic Director Ed Stern. They also loved when the Play Team got to spend time with Rita Gardner (who played Luisa in the original Broadway production of The Fantasticks) when she performed in the Playhouse's 2007 production of Murderers.
Terry continues to be a tremendous, supporting member of the Playhouse family and Board of Trustees, and we are honored to have played such a meaningful role in her love story with Keith.
---
Mary D. Schweitzer
Girls' nights amongst friends are some of the most important dates a woman can have! Mary first started going to the Playhouse about 50 years ago with two of her friends. She recalls that each of them was different in their own ways, and they had become friends while working at P&G. They perhaps weren't the closest of companions, but they nevertheless attended social events as a small group.
Then in the 1988-89 season, they saw Steel Magnolias together. Says Mary, "While watching the play, I saw each one of us in a character's role on the stage, and I knew the three of us had that Steel Magnolias friendship, and I felt the love the play's characters had for each other for my two companions/friends."

Photo #1: Actors Pat Nesbit and Rebecca Rosenbloom. Photo #2: Stephanie Erb and Pat Nesbit. Both images are from the 1989 Playhouse production of Steel Magnolias, photographed by Sandy Underwood.

Mary's friends have since passed away, but she's grateful that seeing the show helped her think of her friendships more deeply, and she's happy to have made such lovely memories with them.
From Left: Mary, Midge and Judy attended the Playhouse often together. Also pictured on the right is a mutual friend who worked them but did not attend Playhouse. Says Mary, "She would have fit into the beauty shop crowd beautifully."
---

Jane and Harold Stier
Jane and Harold both hailed from the town of Aurora, Ind., and eventually moved to Cincinnati. In the early 1960s, Jane was a piano student at University of Cincinnati College-Conservatory of Music, and Harold was a teacher at Hughes High School. They went on their first date together and saw a production of Ghosts at the Playhouse. After the show, Jane told Harold how she would love to see more shows, and so he purchased a subscription to the theatre.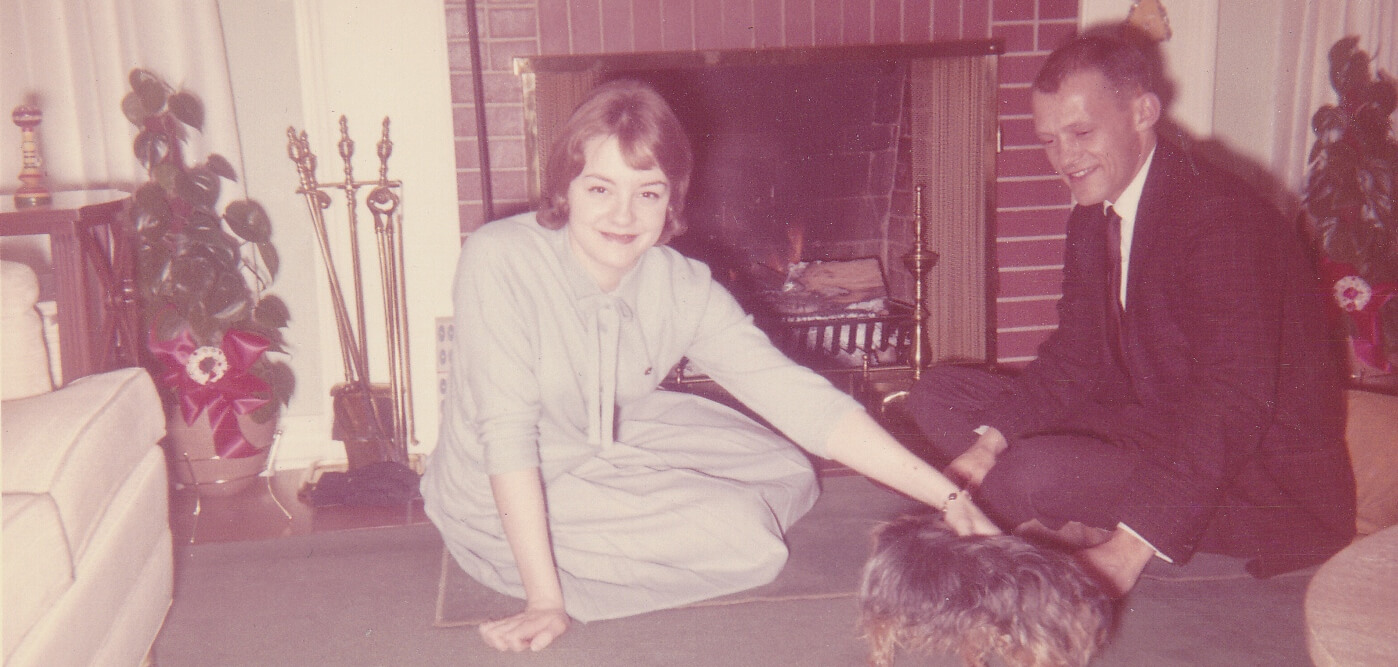 The couple married and had two children — one of whom, Amy, now works at the Playhouse! Amy recalls how often her parents attended shows at the theatre: "It was the only date night my parents had, their tickets for the Playhouse." Jane and Harold remained subscribers together until he passed away in 2018. Jane still attends the theatre to enjoy the shows as a single-seat subscriber.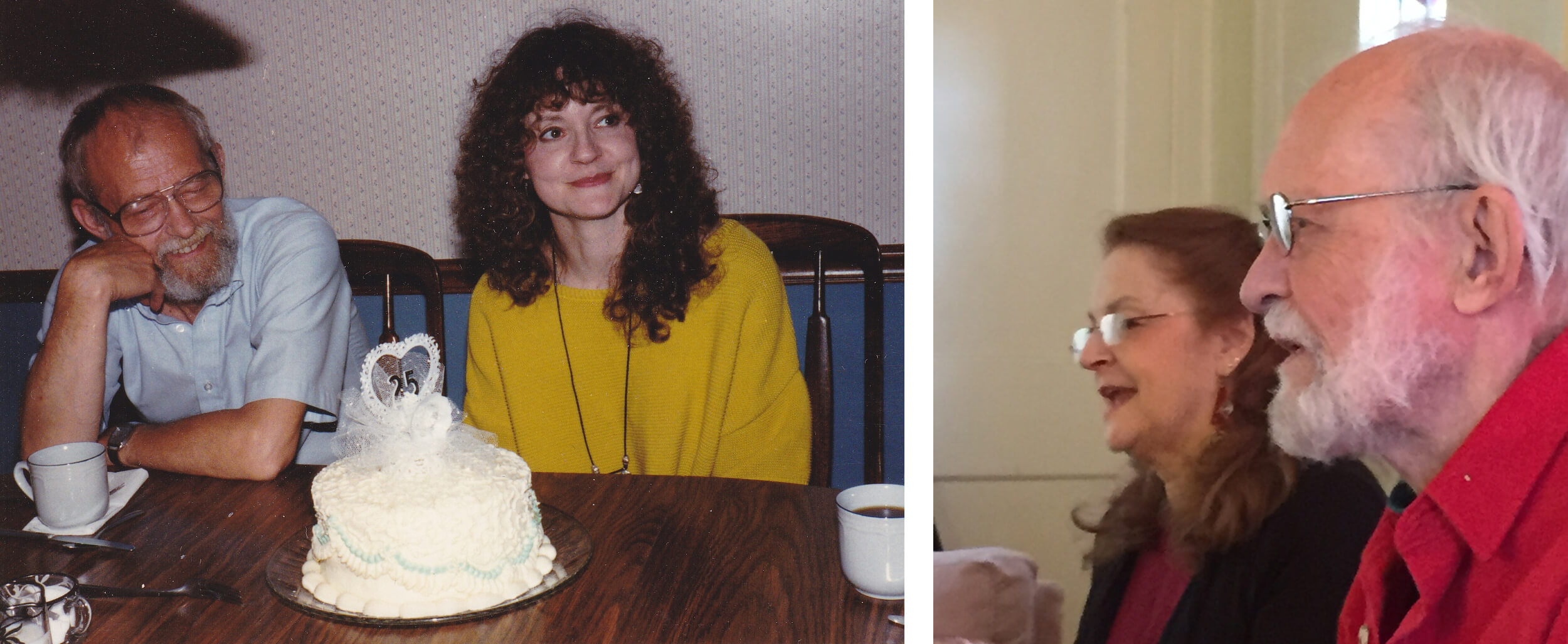 ---
Lyn and Jack Martin
Lyn and Jack received their first Playhouse subscription as a wedding gift in 1972 and have enjoyed Playhouse productions ever since. "We may not have discovered our shared enjoyment for live drama if we had not received that gift," says Lyn. "We celebrated our 48th anniversary in August — and 47 years of date nights at the Playhouse!"
---
William (Bill) and Menyan (May) Seibel
Bill and May had their first date in April 2009 at the Playhouse production of Marry Me a Little, but the path to that first date was not a short one. The two had known each other casually for 20 years as part of the same P&G division. "I'll admit that I noticed her more than others," says Bill, "but we were both married with separate lives, so never thought of anything other than the occasional hallway conversation." Their careers led them down separate paths for years, until one day a mutual friend held a retirement party in February of 2009, and they happened to meet again. "Both of us had become single, and in our chat, realized that we seemed to have a lot of philosophical perspectives on life in common, despite quite different backgrounds," says Bill. "She suggested we should have lunch sometime! I went home happy thinking about a possible future date!"
Their first "real" date included dinner at Teak Thai Cuisine in Mt. Adams, then a play in the Rosenthal Shelterhouse Theatre at the Playhouse. As they watched Marry Me a Little, the theme of "lives lived separately, that might be better together" was poignant.

Actors Sally Wilfert and Benjamin Eakeley in the 2009 production of Marry Me a Little. Photo by Sandy Underwood.
After the performance, they went to The Blind Lemon, then walked throughout Mt. Adams, passing Holy Cross church, the Monastery, and eventually sitting on the rock wall next to the Celestial Steakhouse, looking out over the Cincinnati skyline. "I gazed at her," says Bill. "She was (and still is) so beautiful, so full of life, such a free spirit — How lucky I am to be here. Eleven years later, I still think every day — How lucky I am to be here."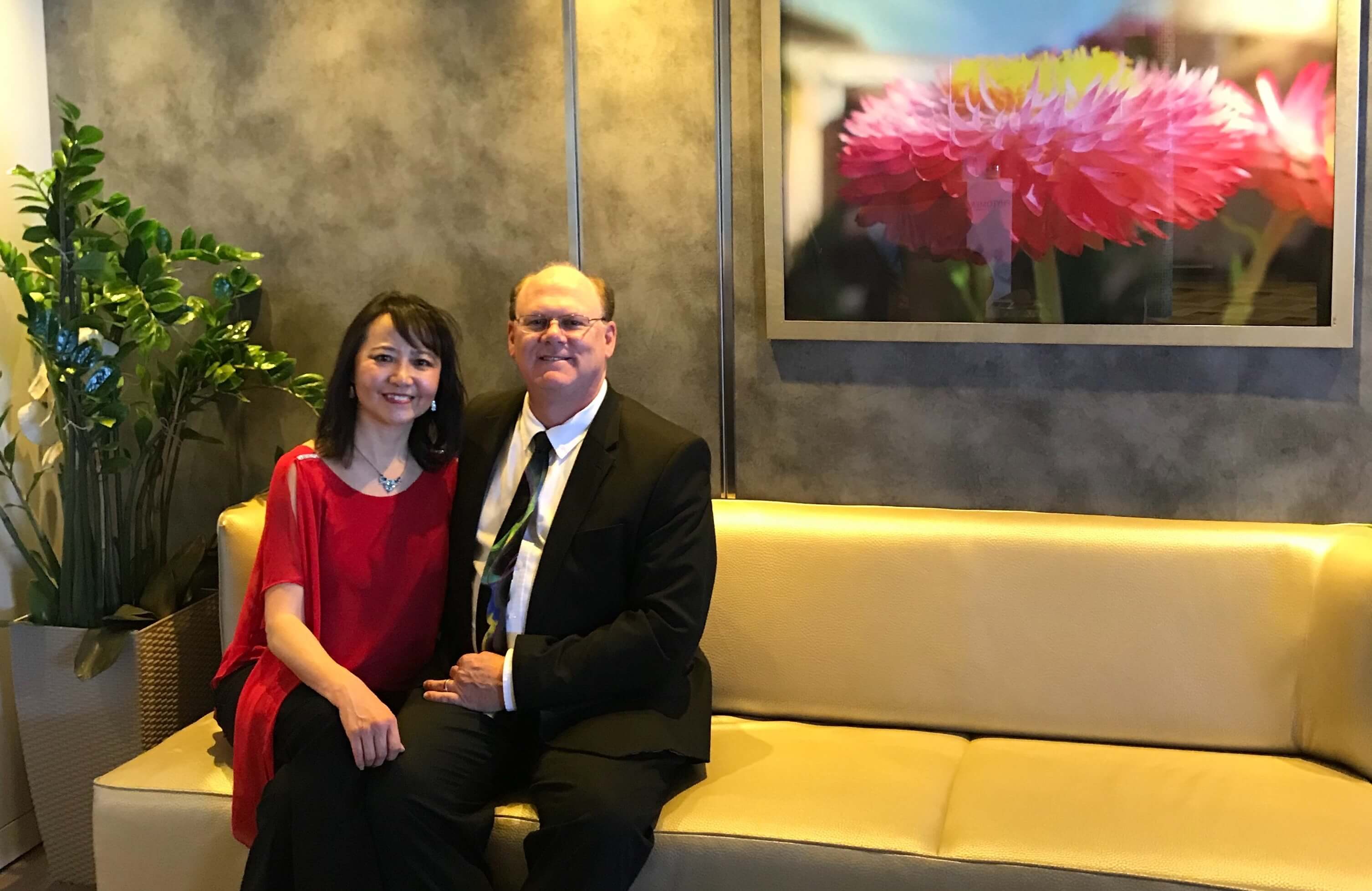 ---
Michele and Richard Sulfsted
Michele and Richard, who've been married for 27 years, have long considered Cincinnati Playhouse in the Park a special spot for an evening out. "We love going to the smaller theatre for Valentine's Day, or an anniversary. It's always one of our favorite date nights!" The couple looks forward to enjoying many more performances together in the future.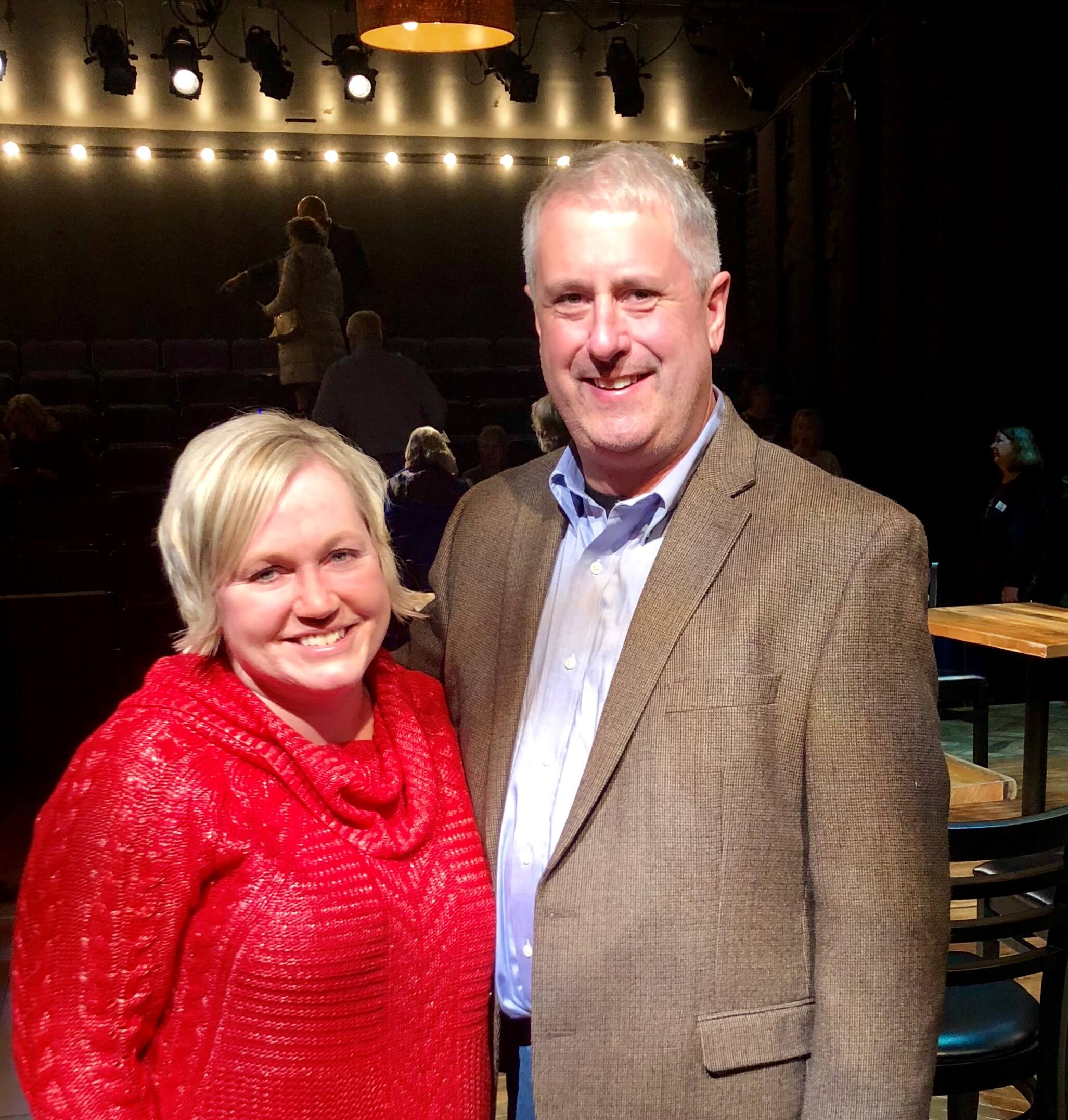 ---
Jerri Roberts and Jim Thomas
In the spring of 1984, Jerri (who worked at the Playhouse with Michael Murray and Robert Tolan) had recently seen A.R Gurney's The Dining Room … twice! She thoroughly enjoyed the show, though her parents did not. Later that summer, Jerri was in her apartment swimming pool and overheard two residents chatting about the play. She went over to them and commented, "I would love to get an older man's opinion of this show, as my parents did not enjoy it at all." The silver-haired gentleman, Jim Thomas, was only ten years older than Jerri, "but the hair threw me!" she says.
"We started dating after that encounter, breaking both of his golden rules: Never date anyone in the complex where he lived, and never date anyone ten years younger or more." The two discovered that they both had a love of the arts and travel, and Jim proposed the following May in a gondola in Venice. The couple wed that September. Years later, they saw another production of The Dining Room in January 2020 while visiting Ft. Myers, Florida. "Still had the same allure!" says Jerri, "As does he."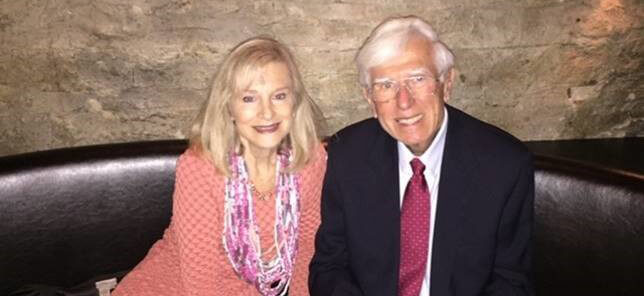 ---
Jackie Dieckman and Mike Camery
In 1973, Jackie and Mike had just started dating. At the time, Jackie had tickets to the Marx Theatre productions with a group of her friends. "We discussed (at length!) whether Mike should subscribe as well," she says. The issue was what if they broke up, Mike would still have the tickets and be sitting next to Jackie. Mike bought the tickets, and — as Jackie says — they lived "happily ever after!"
---
Natalie and Brandon Koking
The year 2016 was a remarkable one for both Natalie and Brandon. It's the year they first met and fell in love, and it's also the year Natalie began working at the Playhouse in the marketing department. The couple has always loved the arts and attending live performances, so they have thoroughly enjoyed the perk of attending every show the theatre produces. As a new couple, being able to spend date nights at the theatre was an invaluable way to enjoy what they love and make memories together.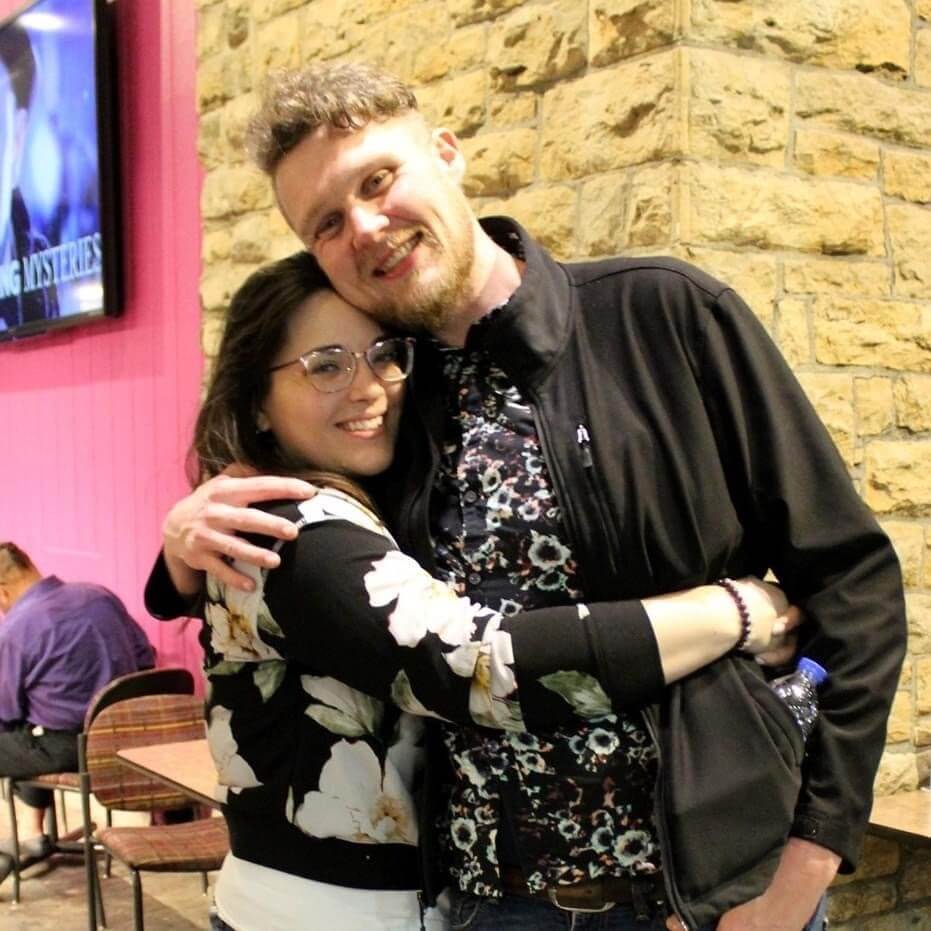 They have routinely attended opening nights and their accompanying parties and have enjoyed every production they have seen. Some stand-outs include A Christmas Carol (their first show together), Million Dollar Quartet (because they brought Brandon's dad to opening night and snagged second-row seats), In the Heights (Natalie got to introduce Brandon to the genius of Lin-Manuel Miranda), Murder for Two (because they couldn't stop laughing), Baskerville: A Sherlock Holmes Mystery (also because they couldn't stop laughing) and The Second City — It's Not You, It's Me (because the actors included them in one of their sketches by improvising their love story onstage).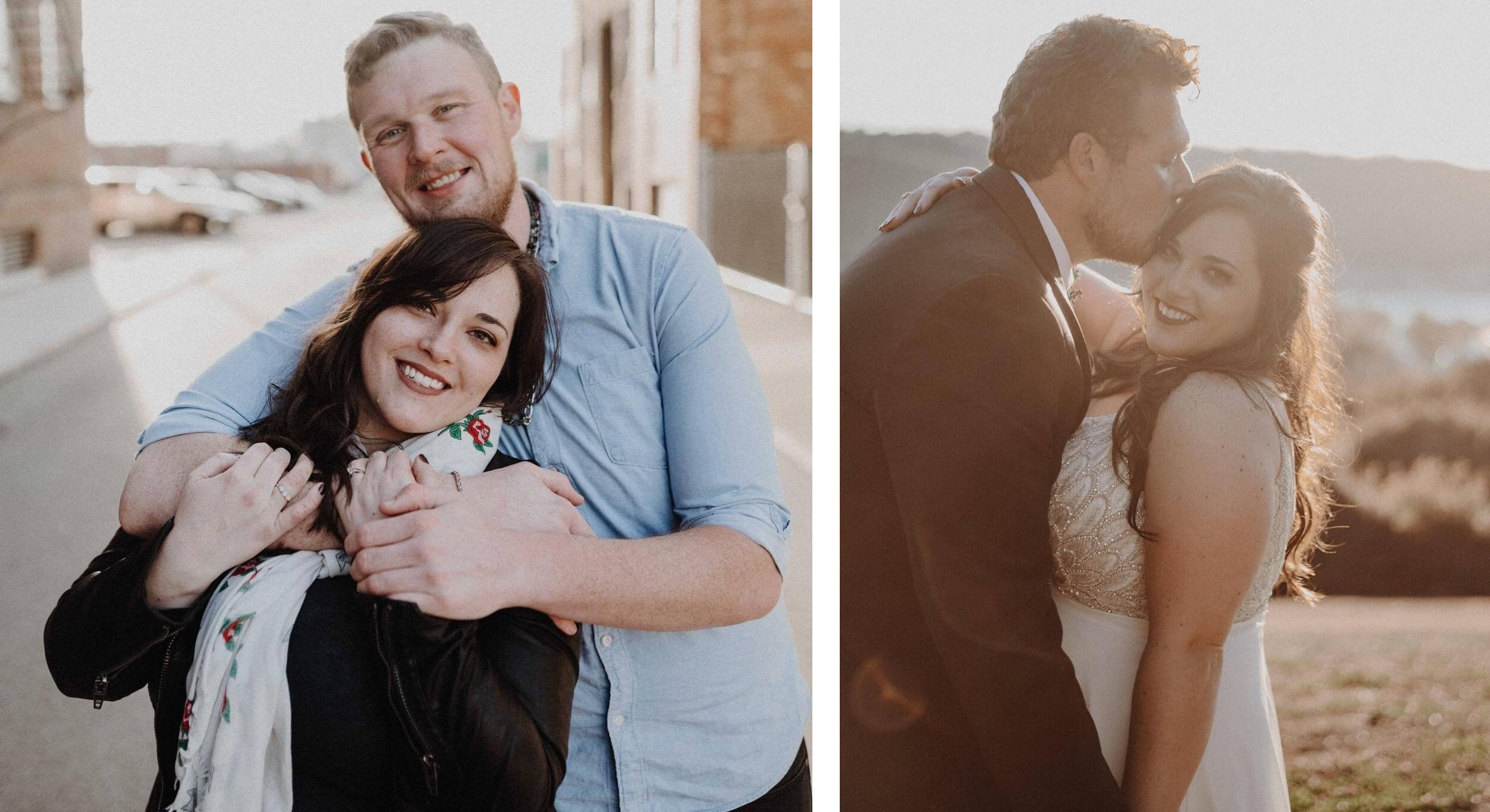 One of Natalie and Brandon's favorite things to do is share theatre with their friends and family, and they have loved being able to spend their date nights with them by having dinner in Mt. Adams, seeing shows together, and engaging in thoughtful conversation afterward. Natalie and Brandon recently got married in September 2020, and they look forward to spending more date nights at the Playhouse as a married couple.
---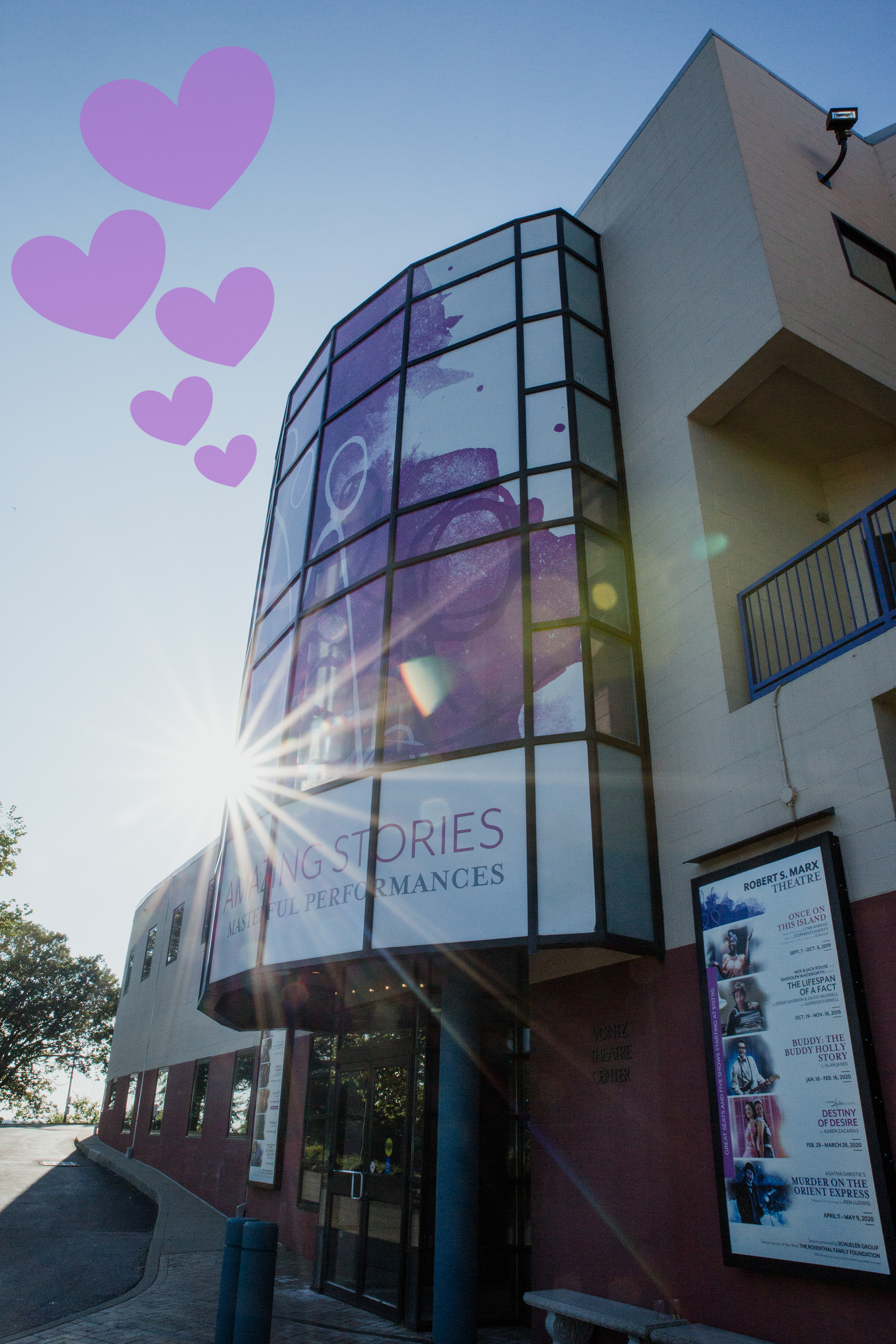 Share Your Love Story

We're looking for love stories that have scenes at the Playhouse, and we'd love to include yours! Did you meet your spouse or significant other here? Was it where you had your first date? Did you get engaged after a show? Has Playhouse marked a special occasion for you both? Is it where you've had date nights for years? Submit your story here for a chance to be featured in future iterations of our Love Stories project.
Photo of the Playhouse building by Cherry Red Shoe Photography. Header image at top of blog by Panda Films.