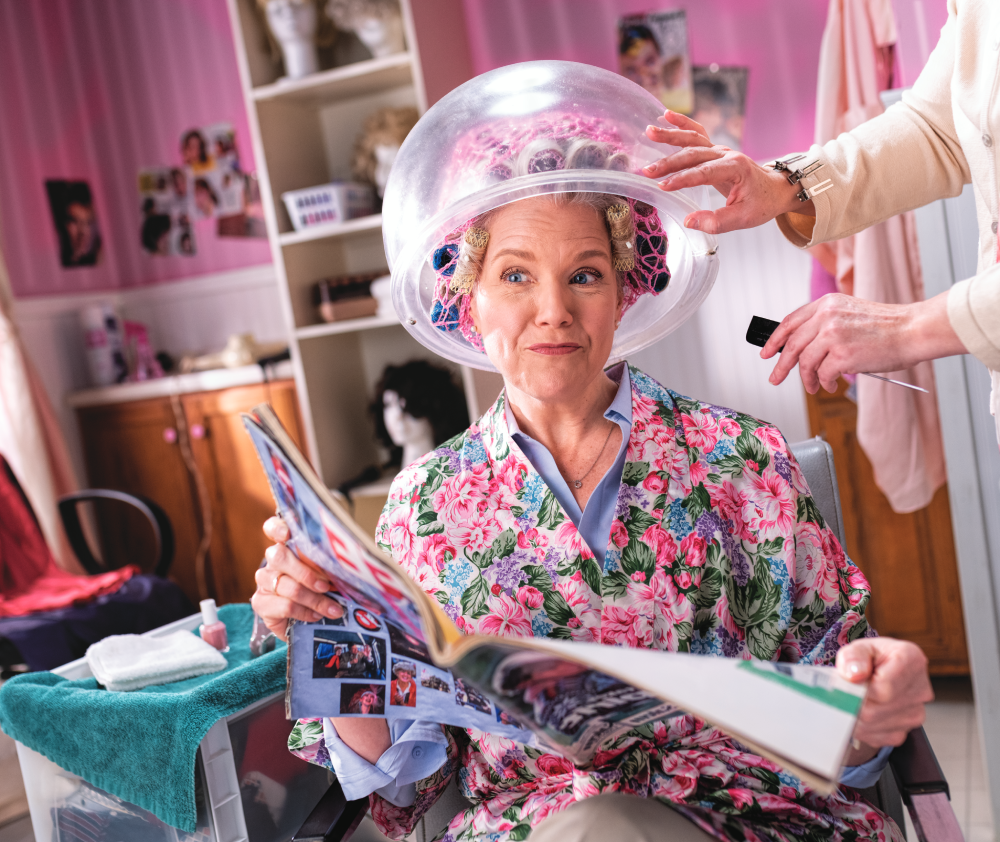 Robert Harling's beloved 1987 dramedy Steel Magnolias, a tale born from memories of the strong women in his family and extended support system, elevates the bonds of sisterhood with great humor and heart. Presented by the Playhouse's Leading Ladies, Steel Magnolias combines stirring drama with snappy and memorable repartee.
Written in 10 days and just a few months after the loss of Harling's sister, Susan, from diabetic complications, the play had a nearly three-year run off-Broadway at New York's Lucille Lortel Theatre. In 1988, Harling, who grew up in Natchitoches, Louisiana, adapted his play for film with Sally Field and an Academy Award-nominated Julia Roberts respectively portraying mother/daughter duo M'Lynn and Shelby Eatenton. The play has also received productions around the world in such countries as Sweden, South Africa, South Korea and Japan.
Set in Truvy Jones' in-home beauty salon, the play overflows with a naturally engaging familiarity and ambience, allowing the characters to particularly resonate for women of all ages and backgrounds. In addition to M'Lynn, Shelby and Truvy, memorable characters include the habitually sour Ouiser Boudreaux; elegant, former mayor's wife Clairee Belcher; and sweet, shy Annelle Dupuy.

The cast of

Steel Magnolias. Photo by Mikki Schaffner


"All the characters were based on real people, Mama's friends," Harling recounts in a 2013 article in Garden & Gun magazine. "I've never told a living soul who Ouiser is based on. After the play had some success and everybody from Natchitoches went up to New York to see it, I was really worried because Ouiser's such a crotchety old curmudgeon. And lo and behold, every woman in town was saying, 'He based Ouiser on me.'"

"The characters' quirks and idiosyncrasies are grounded in truth," adds Laura Gordon, who directs the Playhouse production. "Their relationships are honest. I think they continue to resonate with audiences because they're so recognizable. I think the play is a perfect mix of warmth, honesty and humor."

Over 30 years ago, Gordon played Truvy at Riverside Theatre in Iowa City, Iowa. She acknowledges how much the script has deepened with time.

"I remember being struck by the sense of community in the play," she notes. "The relationships are so rich. I'd say my appreciation has only deepened over the years. I certainly have a much clearer understanding of the older characters now."

As Gordon prepares to bring her own style and vision to the script, she isn't planning to leap into uncharted territory by any means. On the contrary, she's allowing Harling's colorful language to set the mood and emotions bolstered by the promise of authentic period costumes.

Director Laura Gordon in Rehearsal for Steel Magnolias
"I'm approaching this play in a pretty straightforward manner," she says. "We're keeping it true to the time it was written in the mid-to-late 1980s. We have an entirely female design team for the production which is really exciting, including our costume designer, Holly Payne, who was born and raised in Arkansas and has a keen understanding of these women."

With Truvy's salon as a fitting centerpiece for conversation and revelations, Steel Magnolias blooms with endearing themes of love, joy, sorrow and hope.
"When I was a kid, the mystique of the beauty parlor was that guys were never allowed," Harling notes in Garden & Gun. "You didn't know what went on in there, and they all came back different somehow. I realized this hermetically sealed environment would be the best place to have these women express their true feelings."
"I think the familiarity of this story is one of its strengths," Gordon says. "I hope the audience feels like they're visiting old friends who they haven't seen in a while. All of us have been living through an incredibly difficult time of late. I'm excited to share a story that embraces friendship through good times and bad, that celebrates kindness and the resilience of the human spirit, all while having a good laugh. As Truvy says, 'Laughter through tears is my favorite emotion.'"
Make your appointment to visit Truvy's salon as Steel Magnolias, presented by Leading Ladies, runs through April 17 in the Marx Theatre.