In Transition: A Q&A With Costume Designer Tracy Christensen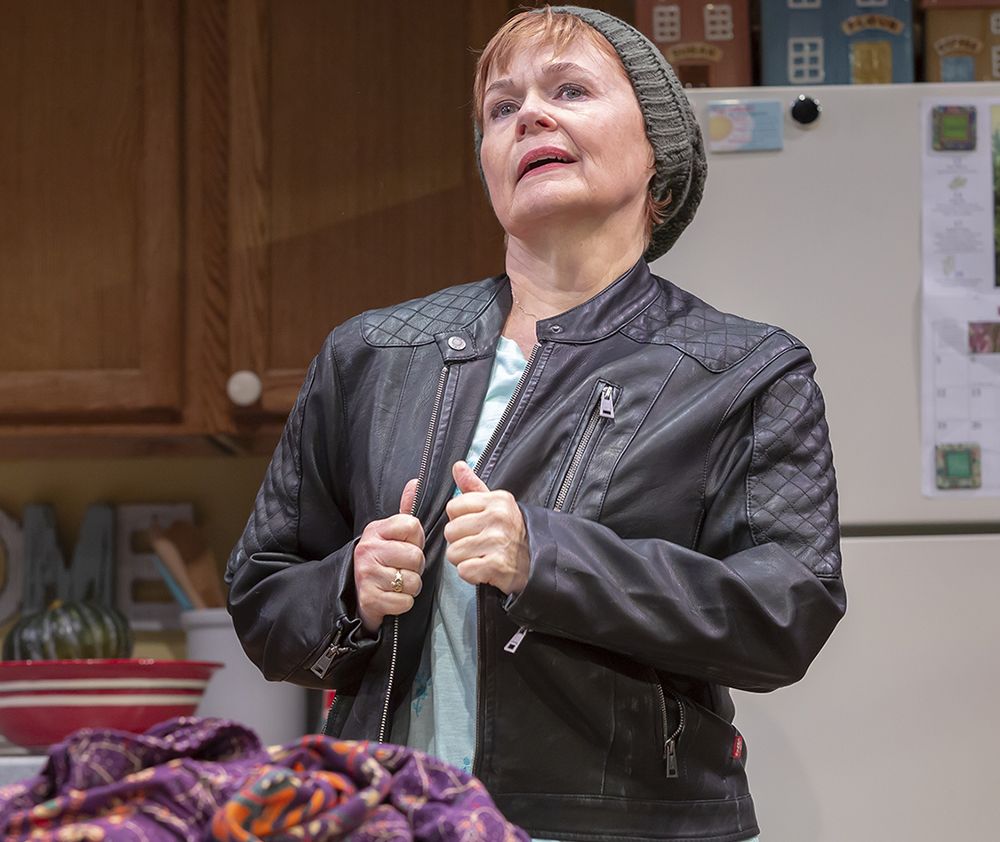 Tracy Christensen is the costume designer for
The Roommate.
In this wickedly fun comedy, 50-something Sharon, an Iowa homemaker, takes a leap towards the dark side when she uncovers the secrets of her mysterious roommate, Robyn, a slam poet from New York.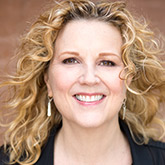 Tracy recently designed the Broadway revival of
Sunset Boulevard
starring Glenn Close;
Candide
at Carnegie Hall with John Lithgow; and
Carousel
for London's English National Opera. Other projects include the premiere of
Anne of Green Gables
at the Merry-Go-Round Theater; Kate Hamill's adaptation of
Pride & Prejudice
, off-Broadway;
Mamma Mia
for the Idaho Shakespeare Festival;
Sweeney Todd
starring Emma Thompson;
Lady Day at Emerson's Bar & Grill
(film for HBO with Audra McDonald);
Souvenir
(Broadway);
Oklahoma!
(Goodspeed Opera House);
Long Day's Journey into Night
(Weston Playhouse);
Seussical
for Theatreworks USA (Lucille Lortel nomination); and
The Glass Menagerie
(Pioneer Theatre Company). She spent 10 seasons at Chautauqua Theater Company and is a faculty member at SUNY Purchase for Costume Design. Visit
www.tracychristensen.com
.
---
How would you describe Sharon and Robyn, and how do you communicate those ideas through their wardrobe?
These are two women in a transitional time of their lives — Robyn is intentionally looking to make a fresh start, away from the people and places that have shaped her past, and Sharon is coming away from a long marriage and trying to figure out who she is outside of being someone's wife and mother. The clothing that they begin the show in reflects their current attitudes and identities, but as the play moves along and they begin to have an impact on each other, their clothing choices show transformation in lots of ways.
Mary Jo Mecca (Robyn) and Margaret Daly (Sharon) in The Roommate. Photo by Mikki Schaffner.
How do Sharon and Robyn change — in terms of both character and wardrobe — as the story progresses?
Robyn relaxes into her new home and lets go of the some of the armor-like, protective, distancing clothing she first appeared in. As she explores her environment by going to the flea market and shopping mall, we see some new clothing choices that are less "New York-y" and ever so slightly more Midwestern. Sharon has the bigger transformation in every way, as Robyn shows her that there is possibility in life, that she is not old or powerless and that she can make choices that move away from what she has always done. Her wardrobe suddenly takes a turn towards more body-conscious garments with stronger color and patterns as she begins to see what is out there for her as both a person and a woman.
As a costume designer, what details do you specifically look for when reading the script and discussing the story with the director? What details in this story stand out to you?
I comb the script prior to meeting with the director and make lists of things that the playwright indicates about each character in stage directions or descriptions, what the characters say about themselves and what other characters say about them. Sometimes these things contradict each other, but that's the humanity of it and what makes doing this interesting and challenging. I have a unique connection to this play. First, I am the same age as these characters and therefore very attuned to what sort of thoughts are coming into one's mind in this decade of life. More interestingly, I lived the first half of my life in the Midwest and the second half in New York City, so I feel very qualified to speak to the lifestyles of both places in a completely first-hand way. The way that life is structured in these two parts of the country is so totally opposite, and how people live, work and dress is reflective of what their daily life is like. I enjoyed all the little details this playwright included about those differences as these women come together from very opposite lifestyles to merge as roommates.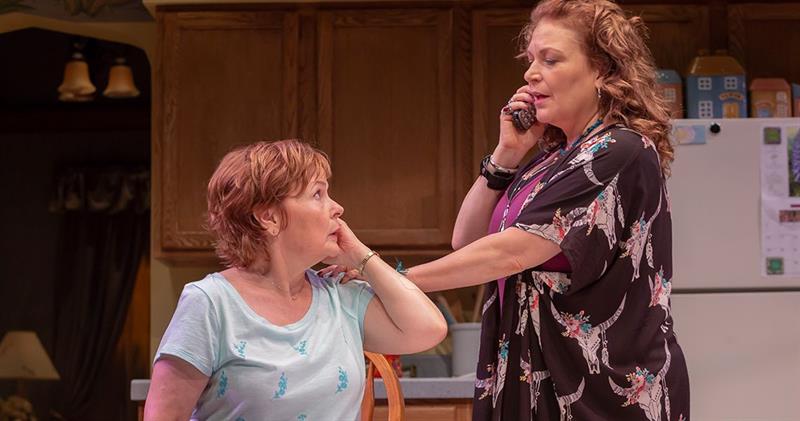 Margaret Daly (Sharon) and Mary Jo Mecca (Robyn) in The Roommate. Photo by Mikki Schaffner.
What were your influences and sources of inspiration for this play? Where did you start your process?
The process always begins with conversation and listening. I spent time on the phone with both actresses to hear what they had to say about themselves and their characters. I showed director Tracy Brigden a lot of reference photos to see what she responded to. I plotted out the scenes to understand the flow of the play and how it might be possible to tell the stories that need to be told while honoring the structure of the piece. There are 11 scenes and a span of time that the play covers — for the most part, both characters are in all scenes, so that's a lot of costume changing.
I'm certainly influenced and inspired by the women I grew up with and who raised me in Wisconsin. There is a pragmatic approach to life that a lot of Midwesterners have and which I very much bring to the early costumes for Sharon. I also understand and relate to the idea of going from being in your parents' home to your husband's home and only identifying as a wife and mother. Many girls I grew up with followed that path, and it's an important part of who Sharon is as we meet her in the play.
My many years living in New York City bring me insight into who Robyn is and how she reflects the realities of being in that specific environment. When I first met Mary Jo (who plays Robyn), we talked about how women in New York are always subconsciously present to the possibility of needing to make a run for it. We wear shoes and clothing that offer protection, layers of "armor," if you will, that send a message to anyone with their eye on us — "don't mess with me." This doesn't mean that she has no style or body consciousness — the opposite is true — but we need to see that edgy, New York attitude when she first appears in the play to understand where she is coming from and to set up the juxtaposition of a New Yorker in Iowa.
Margaret Daly (Sharon) and Mary Jo Mecca (Robyn) in The Roommate. Photo by Mikki Schaffner.
You've talked about how our choices in clothing and appearance suggest how we want the rest of the world to see us. How do you think each of these characters wants to be perceived?
I very much believe that we dress for what we want. When I'm looking at characters, such as the ones in
The Roommate,
I'm searching for clues as to how they feel about themselves in their hearts, which may not necessarily jive with what they are putting out to the world as their identity. Sharon has decided that with her marriage over and both husband and son out of the house, she is done, old, not desirable or useful. Although she wears perfectly nice, practical clothing, the message she puts out there is, "don't really look at me – I'm not anything special." The transformation that we witness of her as the play goes forward is her discovery of personal power, and the message her new clothing puts out is one of strength and operating with intention.
As I've mentioned previously, I think Robyn shows up at the start of the play projecting a very protective look in color, fabric and style. She reflects that New York thing of "don't mess with me." But we discover as the play moves forward that she has somewhat of a gooey center — a huge heart — and she embraces her new choices in life with intensity and joy. As the play moves along, her clothing reflects a desire to change as she embraces a new way of living.
To learn more about the Playhouse's production of
The Roommate
, visit our
production detail page
.