5 Questions with Brian Owen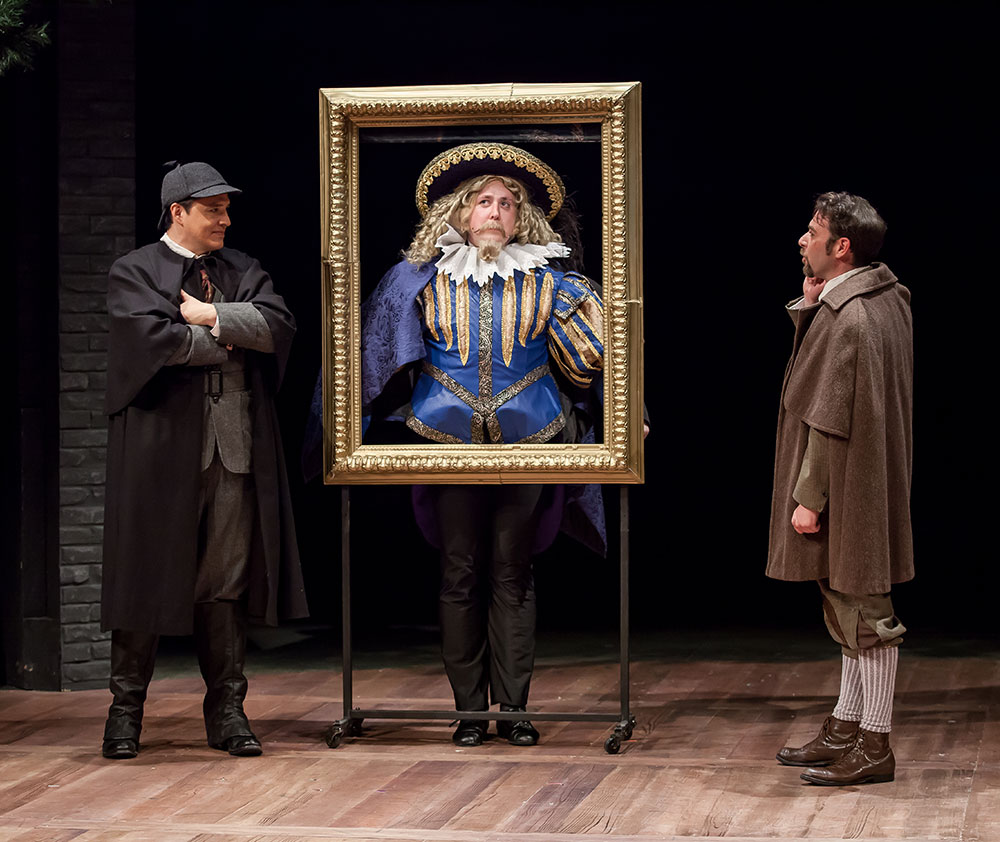 Brian Owen makes his Cincinnati Playhouse in the Park debut in Ken Ludwig's
Baskerville: A Sherlock Holmes Mystery
.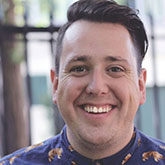 He was recently seen in
Camelot
with Robert Sean Leonard at Westport Country Playhouse, and worked previously with director Brendon Fox in
Peter and the Starcatcher
at PlayMakers Repertory Company in North Carolina. New York credits include
Never Have I Ever
(TinyRhino at Joe's Pub) and
Lisa and Leonardo
. Regional credits include
Sweeney Todd, South Pacific, Both Your Houses, The Matchmaker
and
Sense and Sensibility
(with Jon Jory at Actors Theatre of Louisville). Brian has been in
A Midsummer Night's Dream
too many times to count. Film and television credits include
Hack My Life
on TruTV,
Never Caesar: Make Rome Great Again
,
Stages of Stanley
and
Cinnamon Roll
. He is a member of the collective
Never Caesar
whose viral video
Trump-rested Development
was featured by
Time
Magazine,
Slate
and
Vulture
. His favorite role is husband to his wife Nicole. He is a proud member of AEA and Team Boals.
How long have you been acting, and where did you receive your training?
I started in my first performing group when I was four years old. I was the youngest of seven children, I had a lot of energy, and I think my mother was just looking for a way to focus all my chaotic impulses without losing her mind with six other children. From age four until twenty there wasn't a time where I was not either performing or rehearsing for some show. I took a couple of years off, and then bounced around a few different schools out West studying musical theatre. After graduating with my BFA from the now defunct Santa Fe University of Art and Design (SFUAD, please don't google it), I went to graduate school for Acting at the FSU/Asolo Conservatory for Actor Training in Sarasota, Florida.
When did you know you wanted to be an actor, and what's your favorite part of the job?
I knew I wanted to be an actor the moment I realized I have no other marketable skills. I wish that were a joke. There's really not much else for which I'm well suited. As far as my favorite part of the job, I value the empathy and connections that it engenders. I am privileged enough to be able to go from city to city, work with unique groups of collaborators and get to know their lives and hometowns. I get to connect with new audiences and new people each night. I love working with so many people to create a space for connection, for the sharing of understanding and for the creation of empathy. That means a great deal to me. That, and wearing funny wigs.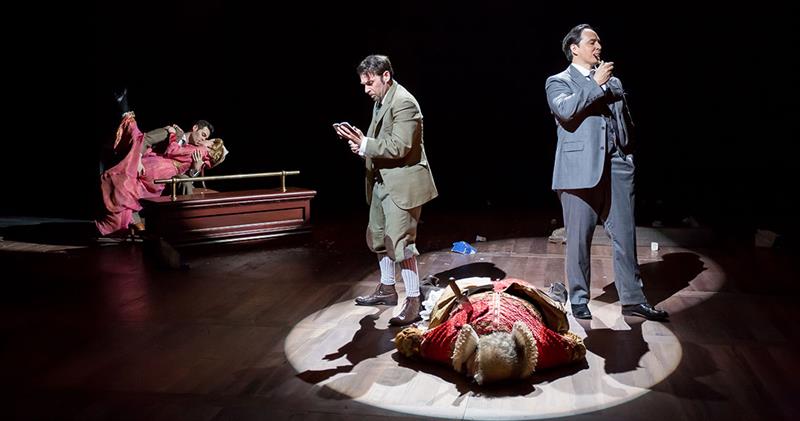 What is your all-time favorite role you've performed, and why?
This may be a cheesy cop-out of an answer, but I'm going to give it anyway. In my program bio I always state that "my favorite role is husband to my wife Nicole." It may not be exactly the type of answer you're looking for, but it's the truest answer to this question. Nothing gives me greater joy than coming home to my wife and getting to be her husband, to cook her dinner and to spend some time together. Why? Because she's simply the most amazing person I know.

What role have you been dying to play, and why?
Sadly, I don't have a list of dream roles. It's not so much a specific role that excites me, it's the people with whom I would get the opportunity to work, or the general type of show/character I'd like to do. Lately, I've been obsessed with where the comedy styles of old have disappeared to: where's the modern space for vaudeville, for borscht-belt acts, or for slapstick? I'd love an opportunity to make something akin to that. For modern sensibilities, like
Old Hats
or the recent
Oh, Hello!
on Broadway, I think they succeeded very well at creating a classic type of two-man comedy routine and reforming it into a modern mold. If there's a recent role that does this well it would be Francis in
One Man, Two Guvnors
. That show is farce and slapstick perfected.
What has been the most interesting part of working on Ken Ludwig's Baskerville: A Sherlock Holmes Mystery so far?
The most interesting part of working on
Baskerville
here in Cincinnati has been remounting the show. It was originally staged in a proscenium (in Cleveland, where the production performed previously) the audience was seated directly in front of the stage, with the stage higher than their eye-lines) and we had to adjust it to the beautiful, deep thrust stage design that you have here. The dynamic of the show has been shifting. Because of the immense depth in the stage, we are able to open up much of the staging, and it allows for a lot of breadth in what we are doing. It also offers a lot of interesting challenges. With the nature of a deep thrust, it's just harder logistically to enter the space quickly. To get from offstage to a point onstage where the entirety of the audience can see you—well, it's a long journey. A proscenium like Cleveland works very well for "surprises," for being able to appear and disappear quickly and to pop in and out to punctuate moments and jokes. Thrusts don't work in the same way. In a show like this, where both mystery and comedy are so dependent upon the unknown showing up quickly in a surprising fashion, it requires an evolution. As always, it's been a joy to shape this new dynamic with four of the most talented and generous actors with whom I've ever worked, a trusting and giving director, and an entire staff and crew at the Playhouse who have been so immensely helpful.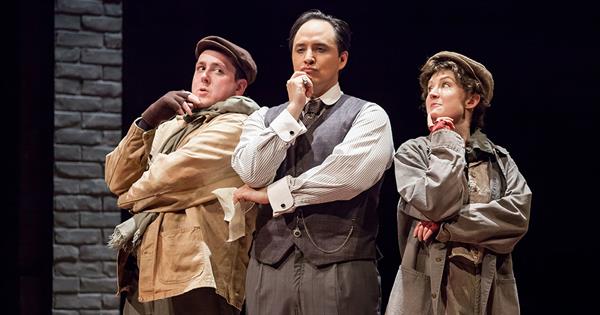 To learn more about Brian, visit
www.briandouglasowen.com
or follow him on Twitter at @bistrowen. To learn more about the Playhouse production of Ken Ludwig's
Baskerville: A Sherlock Holmes Mystery
, visit the production detail page.

Pictured Above: Rafael Untalan, Brian Owen and Jacob James; Evan Alexander Smith, Nisi Sturgis, Jacob James, Brian Owen and Rafael Untalan; Brian Owen, Rafael Untalan and Nisi Sturgis. Photos from Ken Ludwig's Baskerville: A Sherlock Holmes Mystery by Mikki Schaffner Photography.