Break Out of the Comfort Zone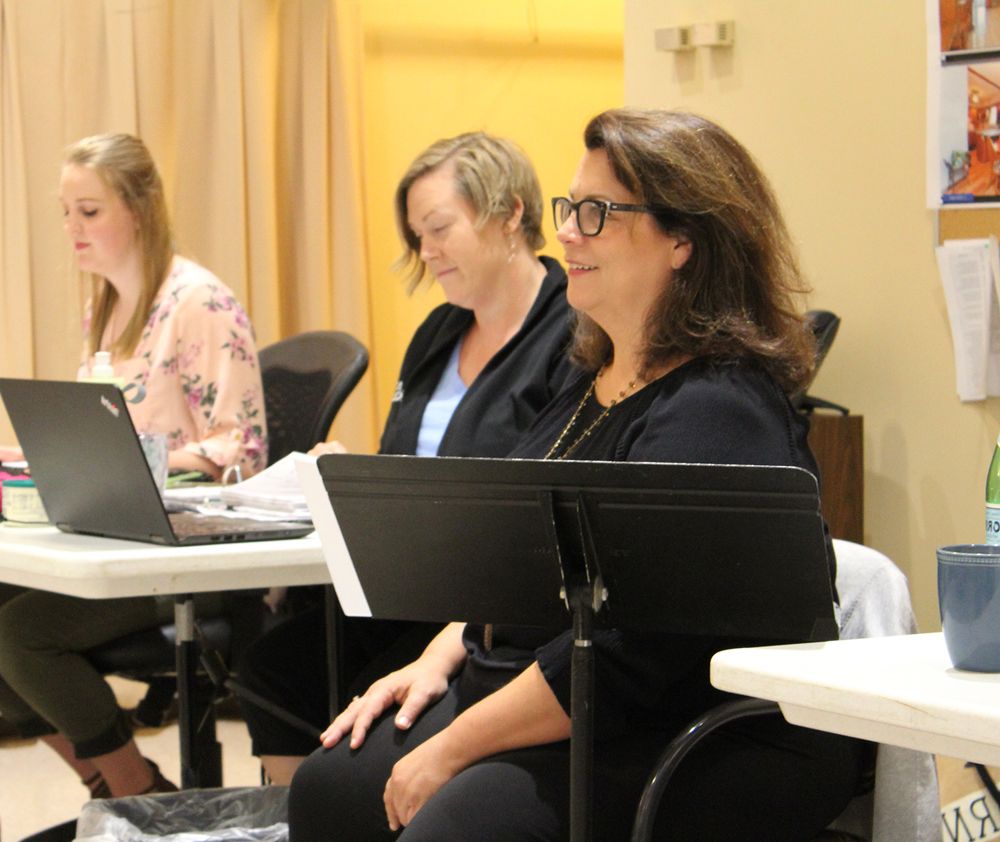 Director Tracy Brigden describes the thematic elements of
The Roommate
and describes her artistic approach to this wickedly fun show.
---
The Roommate is a darkly humorous story about one woman's process of transforming her life after a new roommate inadvertently inspires her to do so. How do you describe the underlying themes of this story? What about the script appeals to you as a director and theatre artist?
The play explores friendship, parenthood, attraction and the potential for reinvention that lies inside every person, through the lens of two 50-something-year-old women. The plot revolves around an outsider as a disruptive and transformative force, and, through that device, it explores the ways in which we all have the power and ability to transform at any age.
Jen Silverman has been quoted as saying that she "wanted to write a play for two badass women in their fifties." Like her, I believe there is a dearth of meaty and substantial roles for women of this age, so I am particularly excited to bring this story to life for that reason.
This two-hander play features a cautious and comfortable Sharon and a rough-around-the-edges Robyn. How would you describe each of these characters in your own words? How does their relationship to one another evolve throughout the course of the play?
The two women could not be more different — in style, in experience, in temperament — but the similarities in their needs and desires make them
simpatico
. They find a commonality in their respective absent children and their aloneness, as well as their shared need to find purpose in life. Their mutual journeys of reinvention are the engine of their relationship.
Tell us about your initial response to the script. How did you begin leading the production team in bringing this story to life? Are there specific elements of the production that stand out more so than others?
I love the simplicity and economy of the script to tell such a resonant and universally truthful story. Jen has said that a play by a woman about two women is often something to be "remarked" on — it's a "women's play," while a play by a man and about two men would just be a play. So true!
The Roommate
isn't a play that can only be appreciated and understood by women. It's a play about humans. So, I started there — the human story.
From a production point of view, that meant that we looked to create Sharon's world first from a realistic angle. We began by asking questions like, "How long has it been since she re-decorated? Is she tidy or messy? Does she like homey or modern?" And practical questions, since the space allows for us to only have one wall of the kitchen, like, "Does she need the sink? The refrigerator? Where does the coffee maker go?" From there, we were able to evolve a little bit of a metaphorical idea as context for the realistic kitchen and elucidate a bit of the theme of transformation through the design.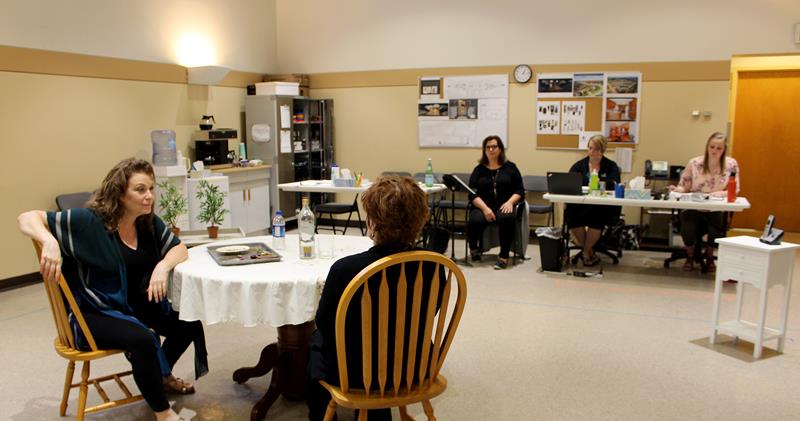 Mary Jo Mecca (Robyn) and Margaret Daly (Sharon) rehearse a scene from The Roommate as Director Tracy Brigden, Stage Manager Andrea L. Shell and Stage Management Intern Morgan Becker look on.
You've had a long and fruitful career as a theatre artist, including developing new works and directing contemporary plays for off-Broadway and regional theatres. You also spent 16 years as Artistic Director at Pittsburgh's City Theatre, where you directed 25 world premieres. How does The Roommate fit into your theatrical repertoire?
The Roommate
is right in the wheelhouse of the type of plays that American writers, in particular, do so well, and that I really enjoy realizing on stage. It checks all the boxes for me: it makes you both laugh and cry, it's a universal story told in a very specific context, there are juicy roles for two extraordinary actresses to really dig into, it's smart, and it has a well-structured plot that makes you think it's going to be one thing but surprises you along the way. The humor in the play comes from the characters truly investing in the situation — not from any big comedy staging. So, I'll just be there to remind the women to stay true to their characters and keep investing in the stakes of what they're after. The audience will follow.
When Silverman premiered this play at the 2015 Humana Festival of New American Plays, she stated in an interview that she wanted to write a story about "badass women in their fifties." In what ways can audiences expect to see this idea play out onstage?
I'll refer to Sharon's line, which is one of my favorites: "Everybody just wants to burn it down and start over." That's basically what happens in
The Roommate
. (Although nothing actually catches fire!)
Lastly, if you had to choose three words that best describe the story of The Roommate, what words would you choose?
Funny, surprising, relatable.
---
To learn more about the Playhouse's production of
The Roommate
, visit our
production detail page
.