Rehearsal to Romance: Three Playhouse Love Stories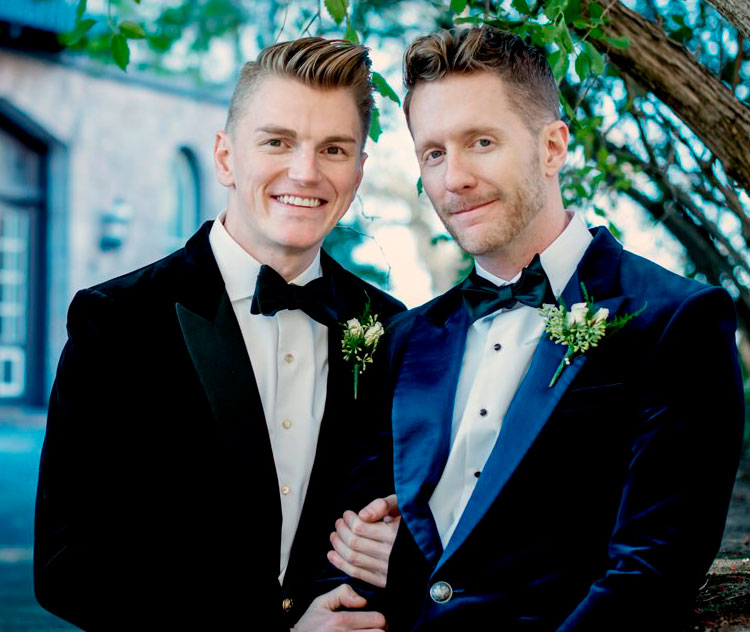 At the Playhouse, we love a good love story. We love it even more when the performers onstage form lasting, romantic relationships offstage! Read how couples Tim and Cameron, Adam and Lindsey, and Matt and Frankie came to Cincinnati to perform in Playhouse productions and left with life-changing relationships.
---
Love in Bloom: Tim McDevitt and Cameron Bartell

The Playhouse's 2015-16 season opened with a musical adaptation of The Secret Garden. The grand-scale production featured an ensemble of 18 actors/singers — including Timothy McDevitt (Tim) and Cameron Bartell, who played the roles of Lieutenant Peter Wright and Dickon, respectively. Before being cast in the musical, the two were leading separate lives as New York-based actors, performing off-Broadway, throughout the country and internationally in theatrical shows and operas. They had yet to establish a connection with one another before being cast.
Tim and Cameron first met en route to Cincinnati to start rehearsals for The Secret Garden. The pair were on the same plane from New York, and they made their first introductions at CVG Airport baggage claim. They struck up friendly conversation and chit-chat as they rode from the airport to the apartments that they would call home for a few months while rehearsing and performing the show. When rehearsals began, Tim and Cameron found themselves surrounded by a company of actors who would, unbeknownst to them, play a pivotal role in their love story.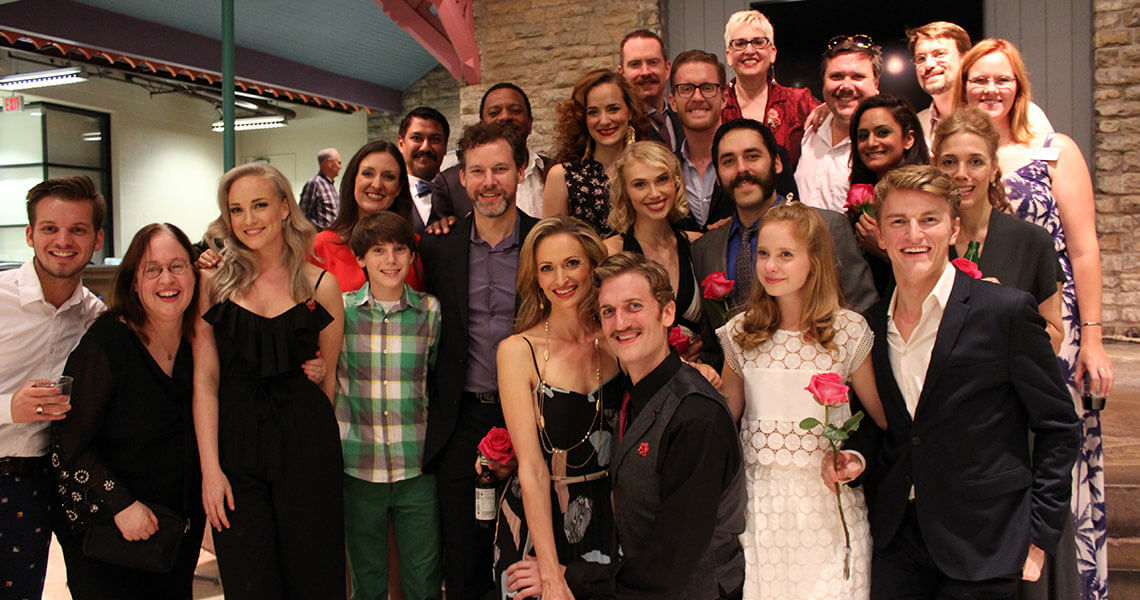 The company of The Secret Garden on opening night.


In Cincinnati, Tim and Cameron spent their offstage time getting to know one another and forming the foundation of what would become a long-lasting, life-changing relationship. They enjoyed post-show outings at Crowley's and The Blind Lemon in Mt. Adams and developed close bonds with their fellow ensemble members. From the perspective of their cast mates, their immediate chemistry was undeniable, and they observed with happiness and excitement the earliest moments of their relationship.
The Secret Garden was a co-production between the Playhouse and Baltimore Center Stage. That meant that the show closed on the Marx Theatre stage on Oct. 3, and the company traveled to Maryland to re-stage the production and perform together until the end of November. That also meant that Tim and Cameron got to work together for a little while longer as they nurtured their relationship as a new couple. Call it a romantic twist of fate or simply expert matchmaking by the show's director Marcia Milgrom Dodge and casting director Stephanie Klapper — either way, Tim and Cameron lovingly refer to the two women as "the Yentas of it all."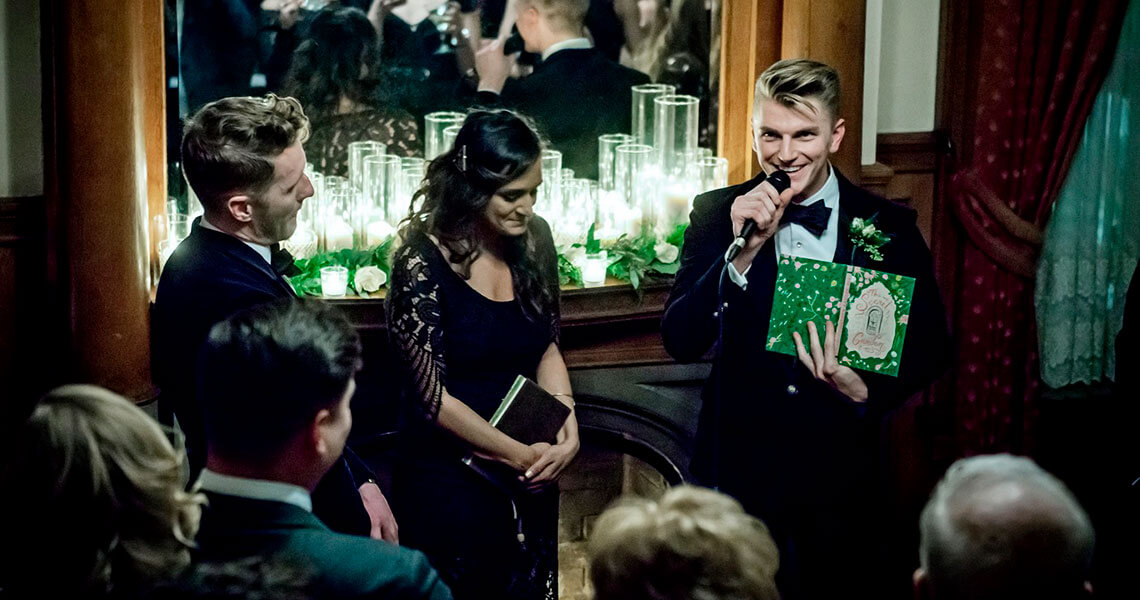 Anita Vasan officiates Tim and Cameron's wedding ceremony. Photo by Heather Shelley.


The rest, they say, is history: Tim and Cameron married on Nov. 16, 2019, in Reading, Penn. Among the wedding guests were The Secret Garden actors Caitlin Cohn, Charlotte Maltby and Carlyn Connolly. Their ceremony was officiated by fellow castmate and now close friend Anita Vasan. She guided the ceremony by sharing memories of how the couple first met in Cincinnati and added special details of what it was like for the ensemble to watch them fall in love. She read aloud a sentimental note that Tim had written to Cameron on closing night of the show, which he had penned in Cameron's copy of The Secret Garden book. Cameron, mirroring the sentimental gesture, wrote his wedding vows in Tim's copy of The Secret Garden book and read them aloud. Needless to say, the couple recalls, everyone was weeping happy tears.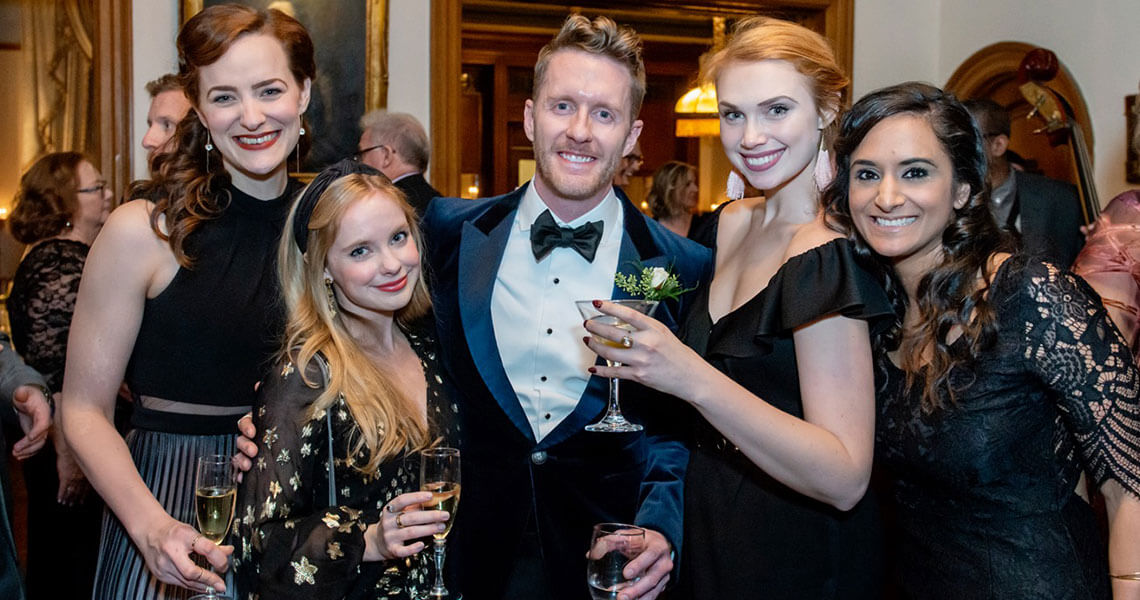 Carlyn Connolly, Caitlin Cohn, Tim McDevitt, Charlotte Maltby and Anita Vasan. Photo by Heather Shelley.


If you're still swooning, check out how the New York Times covered Tim and Cameron's wedding!


---
All For One: Adam and Lindsey Van Wagoner


In 2012, Artistic Director Blake Robison directed a thrilling adaptation of The Three Musketeers, which opened in the Marx Theatre that September. The story follows the brave and heroic D'Artagnan on his journey to become one of the famed Musketeers. Along the way, he falls for the beautiful Constance Bonacieux. In the Playhouse's production, actors Adam Van Wagoner and Lindsey Kyler brought these characters (and their romantic relationship) to life onstage.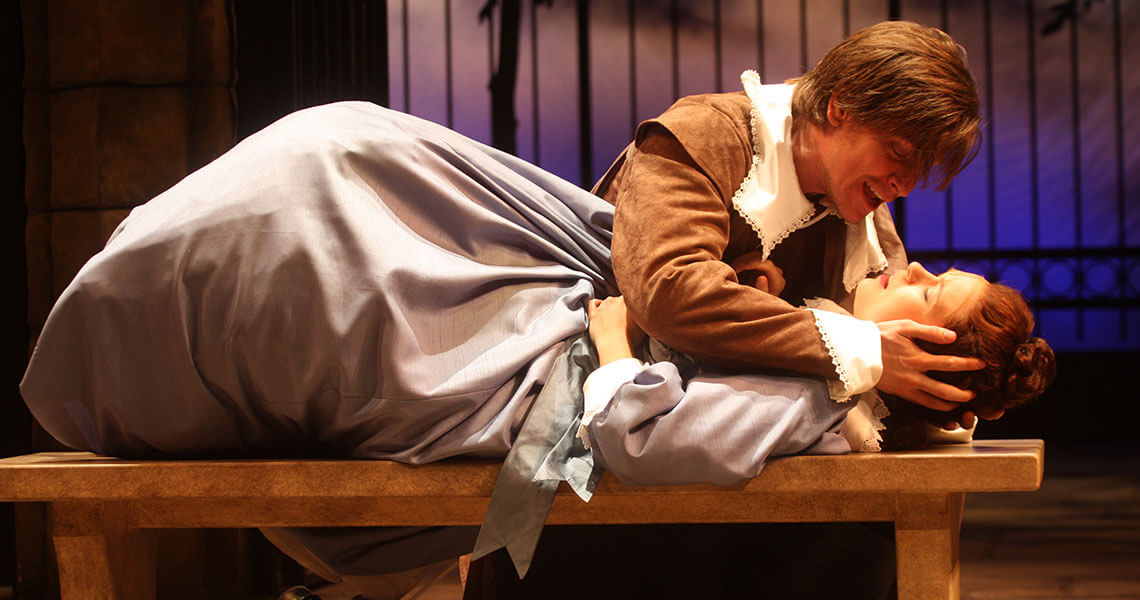 Adam Van Wagoner and Lindsey Kyler in The Three Musketeers. Photo by Sandy Underwood.


Adam and Lindsey met at the start of production for The Three Musketeers. Adam recalls meeting Lindsey outside of the actors' Mt. Adams apartments on the first day of rehearsal and having a funny feeling that he had just met someone very special. Rehearsals progressed over the next few weeks, and D'Artagnan and Constance's love story began to take shape. Lindsey remembers distinctly that Adam suggested, a few times, "I think we should add a kiss here," to which Robison would respond delicately, "Adam, there are already plenty of kisses in this show."
The soon-to-be couple maintained a friendly and professional relationship throughout the production's run. Each of them was already involved in a personal, romantic relationship outside of the show, and the timing, it seemed, didn't fall in their favor. They nevertheless became good friends and stayed in close contact with one another.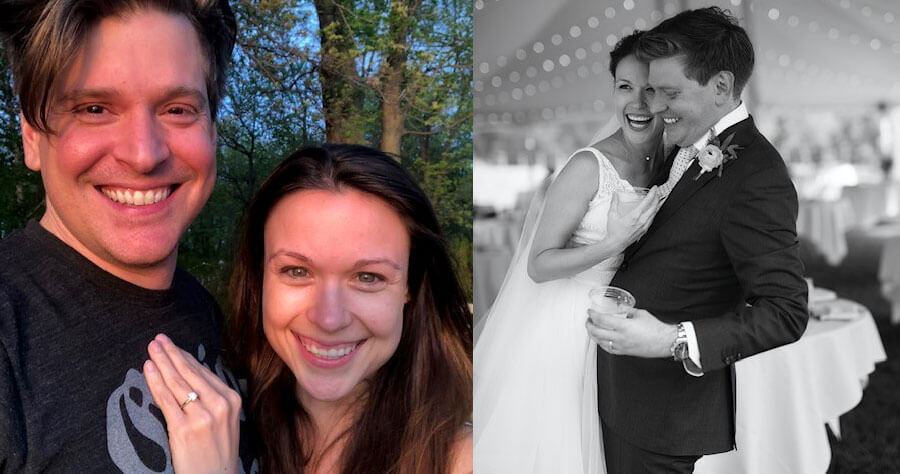 Left: Adam and Lindsey, moments after their engagement. Right: Adam and Lindsey at their wedding; photo by Blue Bend Photography.


Fast-forward five years (which included plenty of moments and conversations that hinted at romance), and they finally began dating Memorial Day weekend in 2017. One year later, they became engaged, and a year after that, they married. The couple has enjoyed eight happy years of friendship and love, and they're grateful to both Robison and casting director Stephanie Klapper for bringing them together and helping them meet the love of their life!


---
O, Wonderful Wonderful: Matt D'Amico and Frankie Choy-Kee


Shakespeare's beloved play As You Like It came to the Sheltherhouse Theatre in the fall of 2011 under the co-direction of Michael Evan Haney and the late, Playhouse Producing Artistic Director Ed Stern. The romantic comedy, which is famously full of mistaken identities and misguided affections, charmingly celebrates life's many joys — including love. For actors Matthew D'Amico (Matt) and Francesca Choy-Kee (Frankie), the play also set the stage for a life-changing relationship.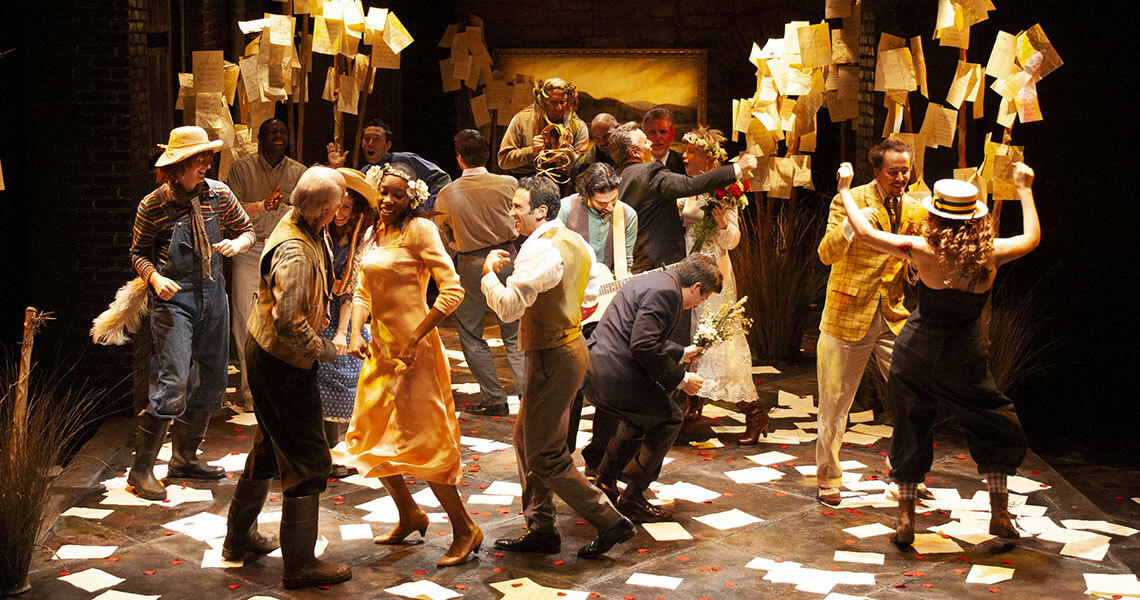 The cast of As You Like It. Photo by Sandy Underwood.


Both actors made their Playhouse debut with As You Like It. Matt performed the role of Jaques, the steadfast observer of the world around him; Frankie played the devoted and emotionally deep Celia. Although their characters had little interaction onstage, Matt and Frankie formed a special bond during their time together in Cincinnati. Two years after meeting in rehearsal, they got engaged and returned to the Queen City to visit and celebrate. They retraced their steps through Eden Park, visited the Playhouse, enjoyed incredible local food and saw their favorite band, Over the Rhine, in concert.
Matt and Frankie married in Brooklyn, New York, on June 22, 2014. To honor the roots of their relationship, they asked Stern to officiate the ceremony. He happily obliged and became ordained as a Universal Life Church minister in order to do so. In the ceremony, he described their relationship:
"Theirs was a romance of courtship, with Matt asking Francesca to go running together on the banks of the Ohio River, walking her home after every rehearsal and finally gathering enough nerve to ask her over to his place for one of his omelettes. Eventually on a rainy day outside of Whole Foods, she instinctively kissed him before walking in to do their weekly shopping.
As Rosalind says in As You Like It, 'They no sooner met but they looked, no sooner looked but they loved, no sooner loved but they sighed, no sooner sighed but they asked one another the reason, no sooner knew the reason but they sought the remedy, and in these degrees have they made a pair of stairs to Heaven.'"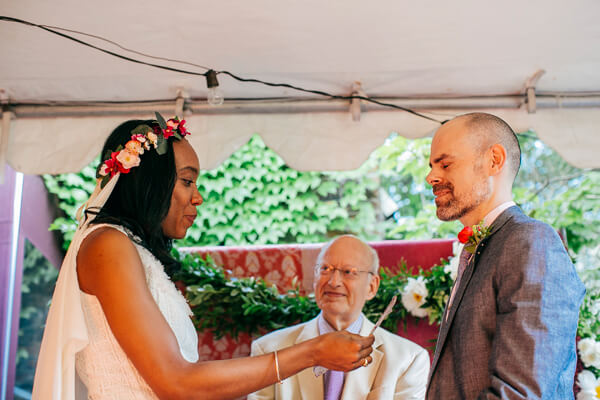 Ed Stern officiates Frankie and Adam's wedding ceremony. Photo by Love Katie + Sarah.


Here's a portion of the vows Matt wrote:
"You listen to me, with every part of you, and you say, 'I'm no authority.' But because you say you're no authority, you are. And you're singing songs to me with your eyes. They're not just love songs. They're songs from the playground that I forgot I knew. They're futuristic psychedelia. They're the happiest love songs. They're mournful dirges. They're religious chants. They're the most incredible independent music that you've ever heard. And the sweetest lullabies that I've ever heard."
Here's a portion of the vows Frankie wrote:
"You see, I was doubtful that I would ever find a man that embodied a poetic soul, or one that would make me feel truly seen and heard. I thought that finding someone who felt like home was a treasure reserved for the elite view. And then, I experienced you. The free and easy way in which you give, your gentleness, your strong moral compass, that infectious smile of yours, your playfulness and — whether or not you feel it — your fearlessness. I have by some inexplicable and lucky twist of fate found that intangible and indescribable essence of real, unflinching, accepting love."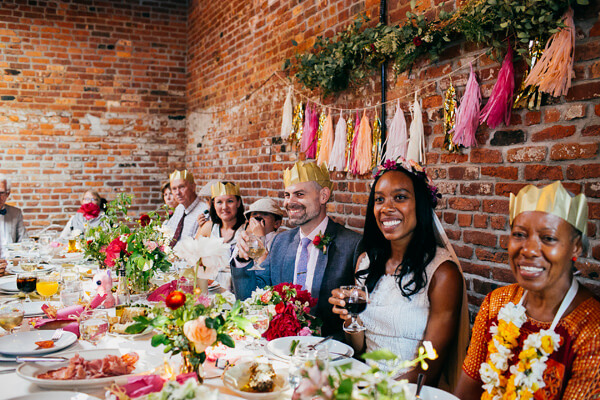 Matt and Frankie with their wedding guests. Photo by Love Katie + Sarah.


You can take a closer look at Matt and Frankie's wedding — including a video that will surely bring a tear to your eye — on Ruffled and check out the wedding video below.
---
We're looking for love stories that have scenes at the Playhouse, and we'd love to include yours!
Did you meet your spouse or significant other here? Was it where you had your first date? Did you get engaged after a show? Has Playhouse marked a special occasion for you both? Is it where you've had date nights for years? Follow this link for a chance to be featured in our Love Stories project.

Photo at top of Cameron Bartell and Tim McDevitt on their wedding day by Heather Shelley.