A Joyous Celebration of Passion and Poetry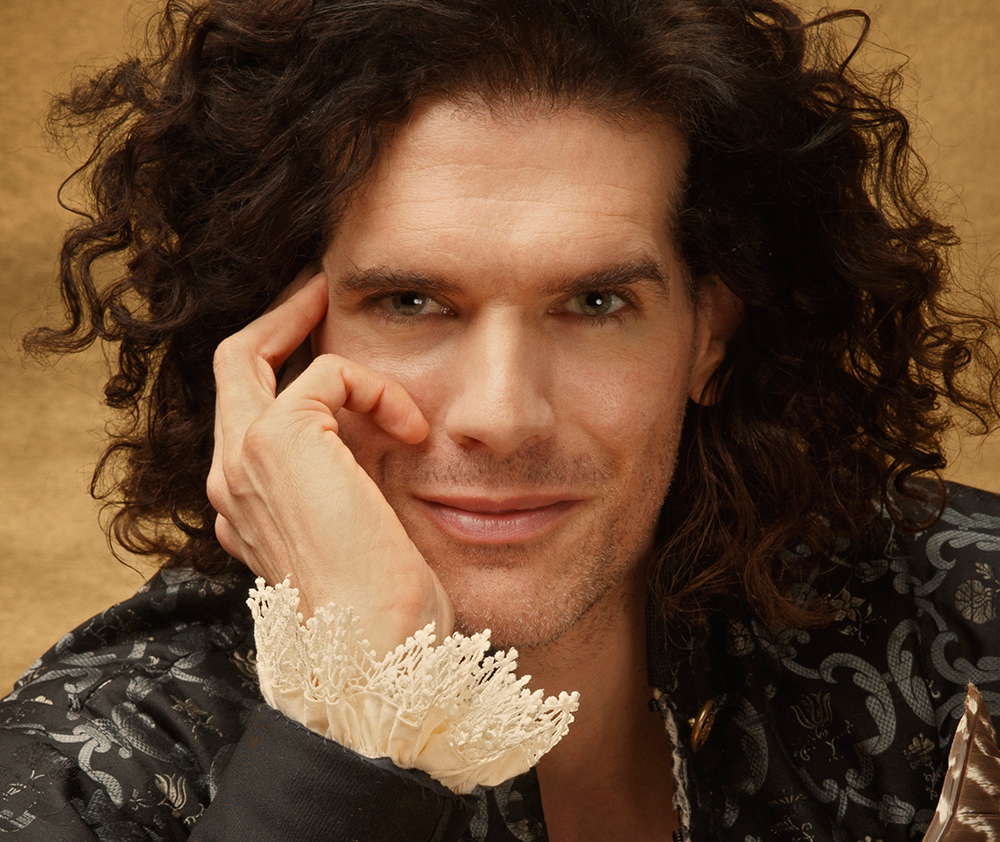 Though he never meanders far from the spotlight, William Shakespeare is, as they say, having a moment. This summer, he made national headlines thanks to a production that proved once again how his play's timeless themes can be reimagined in very timely ways. And, in even more boisterous fashion, the Bard debuted as a punk rock 20-something in cable television's Will, a fictionalized account of the author's early, largely undocumented, years in London.

If the latter sounds evocative of another Shakespearean bio-story, it's because those mysterious "lost years" also serve as the backdrop for the Oscar-winning film Shakespeare in Love, which has been transformed into a wildly funny, irresistibly romantic and gorgeously rendered new stage adaptation that will open the Playhouse's 58th season in lavish style.

When the story begins, our favorite playwright finds himself in trouble. Penniless and indebted to two demanding producers, Shakespeare needs a new comedy and fast. Unfortunately, he's struggling with a serious case of writer's block. Enter the beautiful and beguiling Viola de Lesseps, the daughter of a wealthy merchant who finds limitless inspiration in Shakespeare's poetry and wants nothing more than to join the glamorous theatrical realm he inhabits. But, despite the fact that there's a queen on the throne, women have yet to conquer the stage. Viola must disguise herself as a male actor to gain entrée into Shakespeare's world.

In Viola, Shakespeare finds a lover and a muse, but his passion is thwarted by her father, who has promised his daughter's hand to the stuffy Lord Wessex. As a forbidden romance blossoms, Will and Viola find themselves besieged by cross-dressing disguises, mistaken identities and ruthless scheming. All the while, their secret love story—a chance meeting, a balcony wooing—begins to find its way into Shakespeare's quill, becoming the inspiration for one of his masterpieces, Romeo and Juliet.

The 1998 movie Shakespeare in Love won seven Academy Awards,including best picture. The stage version, adapted by Tony and Olivier winner Lee Hall from the screenplay by Oscar winner Marc Norman and Oscar, Tony and Olivier awards winner Tom Stoppard, was also a smash hit when it debuted in 2014 in London's West End, described as a "joyous celebration of theatre" (Daily Telegraph), a "swooning delight" (Daily Mail) and "an absolute joy from beginning to end" (Daily Express). Two years later, the show played to sold-out audiences in its North American premiere at Ontario's Stratford Festival.

With a cast of 19 actors, dozens of lush period costumes and a fullscale set evocative of Shakespeare's Globe Theatre, Shakespeare in Love promises to be one of the largest and most extravagant plays on the Marx Theatre stage this season. For Shakespeare fans, part of the show's fun is identifying the script's many allusions to the playwright's other classic works and recognizing the historical fi gures, including Christopher Marlowe, Richard Burbage and Queen Elizabeth I, who make appearances in this speculative story. But Playhouse Artistic Director Blake Robison, who will direct the show, says its combination of romance, comedy and adventure also offers a unique invitation to Shakespearean novices.

"This production is great for adults and teens alike," Robison says. "It's a wonderful way to dip your toe into the vast ocean of Shakespeare's world. There are snippets of Romeo and Juliet played out before you in verse, but most of the action is in everyday language that is accessible and understandable to everyone."

It seems inevitable that a film whose story is inherently dramatic and largely about the magic of theatrical invention would ultimately make its way to the stage.

"The point of theatre is transformation: to make an extraordinary event out of ordinary material right in front of an audience's eyes," Hall told The Times of London. "Where the germ of the idea came from is pretty much irrelevant. What matters to every theatre maker I know is speaking clearly to the audience 'right now.' What matters is the power of theatre to move and to change people.

"That is what Shakespeare in Love is about," Hall said. "It is about a place that can allow a common player to be a queen, boys to be girls, where we make the miraculous out of the mundane. So as much as we are all great fans of the film, I think we're very proud to have rescued Shakespeare in Love from the cinema and put it on stage exactly where it belongs."

Nicholas Carrière as Will Shakespeare in Shakespeare in Love. Photo by Dean Alexander.